It was the fall of 2015, I was asked by Alan McDougal, head baseball coach at Colleyville Heritage High School in Colleyville, Texas to work with his team as their mental performance coach.  After my first presentation to the team, players came up and thanked me for my time and shared what they had learned.  The last player who came up had a noticeably stronger handshake, stronger eye contact and a humble confidence about him that stood out among them all.
"That last player who shook your hand, he is going to be a major leaguer." Coach McDougal said.  "That's Bobby Witt Jr."
I had remembered the name Bobby Witt from collecting starting line-up action figures when I was a kid playing little league baseball in Williamstown, Massachusetts.
"Is he a senior?" I asked Alan.
"Freshman." Alan said.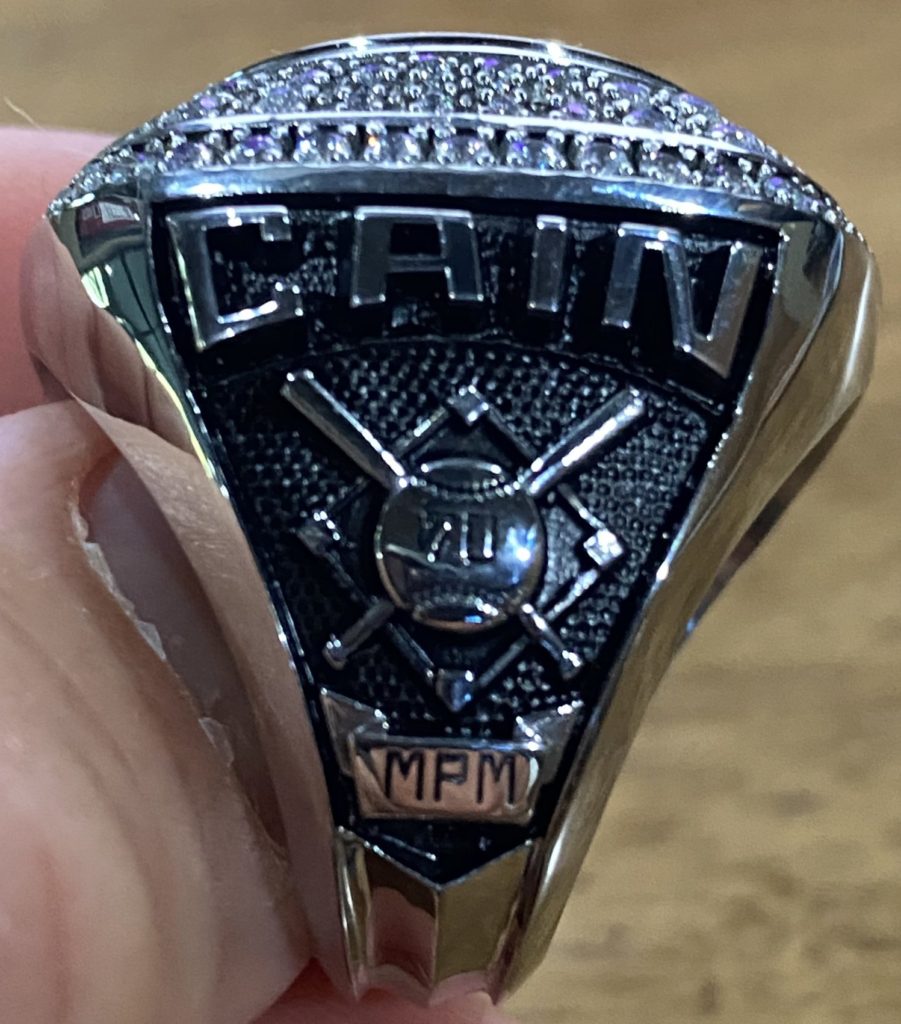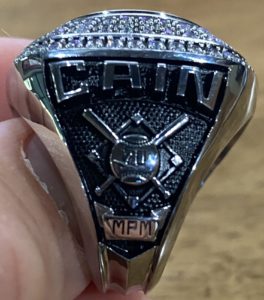 Having worked with Alan, Bobby and Colleyville for the next four seasons from the fall of 2015 till the spring of 2019 I first hand got to see the mental performance progression and development of Bobby and his teammates as players and Alan as a coach.  I was thrilled when they won the Texas 5A state championship in 2019, were the #1 ranked high school baseball team in the nation, and presented me with a Championship Ring for my efforts.  I love that they put MPM under my name on the ring.  My goal is that when you become an MPM Certified Coach YOU start adding to your ring collection. It's also a nice touch that they put number 70 on there as a tribute to my mentor Dr. Ken Ravizza who passed away when he was 70 years old on July 8, 2018.
That June of 2019, Bobby, who at this time was the #1 ranked prospect in all of high school baseball was selected 2nd overall in the Major League Baseball Draft by the Kanas City Royals and signed a record 7.79 million dollar signing bonus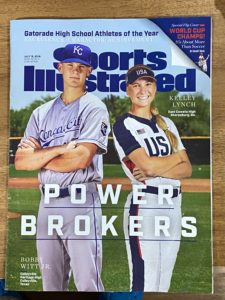 As a high school star in Colleyville Texas, Bobby graced the cover of Sports Illustrated magazine when he was named The Gatorade National High School Athlete of the Year, helped Team USA take home the gold medal at the Pan-American Championships, won the National High School Home Run Derby at Washington Nationals Park and was named MVP at the Under Armour All-America Baseball Game at Wrigley Field.
However, despite the accolades, huge signing bonus and comparisons to hall of fame players like Alex Rodriguez when they were his age, if there's one thing about "Junior", that impressed me, it's not just his skill on the field-it's mindset, routines, habits, work ethic, humility and his team-first approach to the game that make him so special. 
In this Mental Performance Mastery (MPM) podcast, "Junior" opens about his mental performance training and:
How he trained his mental game from a liability to a weapon
The benefits of playing for a coach in high school who invests into the mental game
How to handle the adversity and expectations that come with competing in baseball at the highest level
The routines he uses to compete one pitch at a time
How he uses the breath as a tool to turn pressure into pleasure
His nightly visualization routine
His leadership style and what it means to him to be a great teammate
and more…
LISTEN TO THE PODCAST BELOW
Thank you for listening to the Brian Cain Mental Performance Mastery Podcast on the Ironclad Content Network. If you liked this show, be sure to leave us a rating and a review and don't forget to engage with me Instagram and Twitter @BrianCainPeak.
PODCAST HIGHLIGHTS:
BOBBY'S TOP 3 MENTAL GAME STRATEGIES
In this video below Bobby Shares his top 3 mental game strategies he uses to create consistency on and off the field through the use of creating intentional routines and habits and how to flush it to help separate offense to defense.
DEVELOPING THE SKILLS OF FOCUS AND AWARENESS
In this video below Bobby Shares how he has developed the skills of present moment focus and self awareness and breaks down his use of "signal lights" as a way to know when to release and refocus on the diamond.
MENTAL PERFORMANCE TRAINING ADVICE FOR YOUNG BASEBALL PLAYERS
In this video below Bobby Shares what he knows now that he wishes he knew when he was just getting started with Mental Performance training.
How to Master the Mental Game of Baseball?
If you enjoyed this podcast with Bobby Witt Jr., you should join my FREE 60-minute mental game of baseball masterclass video and start developing the winning mindsets, routines, and habits you need to compete one pitch at a time and perform at your best.
PODCAST TRANSCRIPTION:
Brian Cain:
Hey, Brian Cain, host of the Brian Cain Podcast today and I'm super excited to have our guest Bobby Witt Jr. He's one of the most exciting young athletes in the country and was recently the number two overall pick in the 2019 Major League Baseball Draft by the Kansas City Royals organization. And he inked the third largest signing bonus contract in the history of Major League Baseball. And Bobby who's been on the cover of Sports Illustrated was named the Gatorade National High School Athlete of the Year. He was a state champion in his senior year with Colleyville Heritage High School and he helped lead Team USA's baseball team to the gold medal at the Pan-American games.
Brian Cain:
He's also, before he ever would step the day outside of high school, has hit home runs already in three major league parks, Wrigley Field, Nationals Park and Globe Life Park, home of the Texas Rangers. And the beautiful thing despite all the accolades is if there's one thing people know about Bobby Witt Jr., it's not just his skills on the field, but it's his humility and his team first approach to the game that really attracts you to this player and really make him the special breed that he is in a lost art of humility and the lost art of team first athletes, humility, and team first define Bobby Witt Jr. as well as one of the most impressive skillsets where they said in the article in Sports Illustrated, the second best prospect to come out of high school since Alex Rodriguez. Bobby Witt Jr. welcome to the Brian Cain Podcast.
Bobby Witt Jr.:
Yes, sir. Thank you for having me. I'm very excited and just really privileged just being here and talk to you.
Brian Cain:
Yeah, Bobby. Man, I was excited to have you. And we met back, I think, when you were freshman at Colleyville Heritage High School. Do you remember kind of your sort of introduction into the mental game at all?
Bobby Witt Jr.:
I was coming from football, from the fall football and in then the spring and I kind of heard about Brian Cain and what he was doing for the baseball program and in the past just what they have done for us. And then the spring hit and then that's when he came out and saw us and it flipped the switch for me. So just having him in my life and just the opportunities he gave us as a team and the team building, things that we had, it's been amazing.
Brian Cain:
Bobby, we'll get back kind of into your mental game, but let's press rewind here and go all the way back. Your father, Bobby Witt, Sr. was a longtime major league baseball pitcher and was actually selected third in the Major League Baseball Draft and you got to be picked second. So did you always know kind of growing up as an athlete that you wanted to follow in your dad's footsteps as a major league baseball player?
Bobby Witt Jr.:
Yeah. Ever since I was little because his last year was in 2001 and with the Arizona Diamondbacks and that's when they won the World Series, but I was too young to really remember any of that. But I got to grow up and talked to a lot of his teammates and just to hear about how he was as a player really was the way that I figured out who he was, because I never really got to see him play personally and in old video tapes and things. But then just how growing up with him being there by my side, he really instilled the love of baseball in to me and just that he put that hard work into me because he's from Massachusetts.
Bobby Witt Jr.:
So he's that hard-nosed guy. He's always going out there trying to… Even to this day, he's trying to get better at anything he's doing whether it's doing yard work or throwing BP, trying to get better at that. So just having him, it's almost like I had a cheat sheet for me throughout my years of my career of playing baseball and also just growing up to being a good young man.
Brian Cain:
And despite all of your success, at a very young age, we asked you about some of the obstacles that you've had to overcome and I think when people look at you, Junior, they see the Sports Illustrated, they see the second-round pick and they see all the success, but every success has challenges and one of the things that you mentioned was that sometimes there was worry. And what are some of the ways that you've kind of been able to keep that in check and stay focused on your mission and not be suffocated by the pressure or the expectations or the worry that you've had as a top prospect?
Bobby Witt Jr.:
After going through some of the mental practices and everything, and I think was probably about my sophomore year of high school that really it truly flipped the switch in me and just it lit a fire in me saying that people are going out with a target on my chest and that was another thing. I don't want people to be thinking about me in bad ways like, "All this kid does this, does this. Why is he this?" So then I just focus on the team really and that's when everything kind of fell into place. Whenever I wasn't worrying about myself and what I'm going to do, it was kind of more worrying about what am I going to do for the team?
Bobby Witt Jr.:
And once I knew I had that in me and then the team just kind of went off. And my four years of high school it was the best experience I've had and then summer ball playing with Team USA. Just knowing whenever you have these teammates behind your back that's when all that worry and self-doubt, and all that goes away. You can just go out there and play your game. And I think my sophomore year of high school, really it clicked for me and that's when I was able to push off all that negativity that I was going through my mind like what if I did better here? What if I did this? Just really just go out there and have fun and play my game because I can't worry about what college coaches, what MLB scouts are saying about me, what other kids are saying about me. I just got to go out there and be me.
Brian Cain:
Bobby, you mentioned kind of growing up and at some point around your sophomore, your high school, you've identified already number one prospect in the country as a sophomore in high school and you've got this target on your chest, and you were able to use that to your advantage to focus on being a great teammate. And what was it like for you when you made that shift to say, "My number one goal is to be a great teammate." Did that relieve some of the pressure that you felt like you had up to that point?
Bobby Witt Jr.:
Definitely. I just felt like there's just that rock that's on your back that has all the pressure on it. It just goes away and then whenever you're focusing on winning and rather than winning for yourself, winning for the team and then that's when it really just, it comes off. It's just amazing just doing that little switch can do for you and. And whenever I just focused on the team and trying to win, that's when I play my best too.
Bobby Witt Jr.:
So it was a win-win situation. Once, I could figure out that that's what I need to do and just help the team out as best as possible and winning championships are the most fun thing in sports too. So I always wanted to do that and then that just helped me as a whole.
Brian Cain:
It's amazing. I had a chance to talk with Alan McDougal, your high school baseball coach at Colleyville Heritage in preparation for this podcast and I said, "Alan, tell me something about Jr. that I probably don't know and he would never mention on the podcast because of his humility." And he said, "Ask him about his walk-up song when he was a freshman and what the name of that song was." Do you remember what that song was?
Bobby Witt Jr.:
Don't go chasing waterfalls. Is that the one?
Brian Cain:
Well, it was also mentioned in the Sports Illustrated article about Tim McGraw, so Humble and Kind.
Bobby Witt Jr.:
Yes. The other one was the one the seniors picked for me and that one was just, it came out during that time like grandma passed away during that time and that just kind of toned me down. And then just that song just always staying Humble and Kind by Tim McGraw, that's kind of been my motto throughout my years of playing throughout high school and then the summer showcase and then even now. And that really it just makes me feel if other people can do that then this game will be a whole lot better. I'm not saying it's bad now, but what I try to do is just stay humble and kind because you never know what other people are going on in their life, what's going on in your life at home.
Bobby Witt Jr.:
So if you just try to keep that even kindness and humility within you, then other people will build off that and then there'll be a great culture and that's kind of what we built at Colleyville Heritage and that's what the whole Royals organization is pretty much about too. And that's why I'm so blessed and honored just to be a part of that organization.
Brian Cain:
And do you feel like having that humility and that kindness and that focus on serving your teammates and being a great teammate that that takes a little bit of pressure off of you and maybe even creates an edge for you when you go out there to play because you're not playing with so much pressure that you have to be perfect?
Bobby Witt Jr.:
Oh yeah, definitely. All this stuff that we're talking about here, it ties together as just going out and just trying to do things not just for yourself, but for others. And if you can do that and be the team first player then you see guys have success like Derek Jeter, he wanted to win championships and look what he did, he won championships and he was the best guy on and off the field, and that's kind of how I want to role model myself as well and just staying humble and kind as much as possible throughout everything. That's kind of how I hope to live my life and the rest of my life throughout my whole baseball career.
Brian Cain:
And then talking with Alan, one of the things he mentioned was that is you guys were making this run into the state tournament. He said two things that stuck out to him. I think it was a game at Dallas Baptist, you guys were playing and he was standing there talking and with a bunch of scouts and people who were there to see you and some of the other great players on your team. You look down the batting cage and here comes you and a bunch of your teammates running in and there's one guy carrying a tee carrying a bag of balls and a bat, and everyone else is running in neither empty-handed or just with that bat. And that player was you carrying the ball, is carrying the tee and doing that.
Brian Cain:
Where does that humility and that willingness to want to seek to serve. Where does that come from? Is that something that that was instilled with you by your parents or in your program or is that just a decision that you made?
Bobby Witt Jr.:
Definitely with my family who just instilled me. I have three older sisters and if I act that out of hand, I had my mom, my dad, three older sisters are on me like that. So I always had to be the best I can around them. Just with my dad, just always wanting me to work hard and put others first. And just having that mentality just growing up as a young age, it kind of helped me just be that because I didn't even really think of that. The first thing that came to my mind, all the balls are out. I've got to go pick them up, I got to bring them in.
Bobby Witt Jr.:
So really, it's a routine and a habit for me now that I've done it so much of my life just at home and it just really doesn't faze me to do it. And I think that it helps me as a whole and being able to be that team player that I try to be, it helps the team feed off that and then hopefully they see that and they do the same thing.
Brian Cain:
Is that something that you think you'll take into professional baseball? Because I know a lot of times when players go from high school, college baseball into the pro ranks, it becomes almost an individual sport for them. How are you going to combat that as you continue to transcend into your professional career?
Bobby Witt Jr.:
Oh yeah, definitely. I want to just keep the same me and just always be me and do things that I've done to help me get to this point. And kind of like I was saying earlier, just the Royals organization, that's just how they are. They treat every player like they're a first rounder and they go out. And just the staff, the people they draft, the guys they sign from Dominican, Venezuela, they're all team players. There's not one guy that's like, "Oh, I'm just going to do this for me and then that's kind of… It's just an amazing fit for me to just happen to work out with that. And I'm just really greatly appreciative of what they have done for me and how they've kind of like…
Bobby Witt Jr.:
I've been around a lot of college players and I was kind of the one high school player, and they just took me in their arms and just kind of helped me through my first season and kind of first spring training, which was awesome and kind of helped me get my feet wet through that and just to get going. And now, I just play baseball. I don't worry about other things and now it's just really back to trying to win for the team.
Brian Cain:
Would you tell our listeners, and there's going to be a lot of baseball players listening to this, and would you talk about some of the techniques that you learned whether it be through our time together at Colleyville Heritage High School or things that you've learned on your own now with the Royals or from your dad and just being around the unbelievable baseball career that you've had so far, and the people that you've been around. What are things that you've learned that you feel like these are mental game strategies that I use that help me be the player and teammate that I am?
Bobby Witt Jr.:
Definitely. At first, just to say just get a good routine whether it's in the dugout or coming to the on-deck circle or getting into the box. And that's what kind of you taught me and just kind of getting that first go around in my freshman year. That's when my routine started and I've kept that same one going up to the plate since freshman year to now. And going up there getting a look at my bat, I find a little focal point, take a deep breath and just say something, whatever's going in my head like it's time or just get that confidence going and I would say that was a huge thing for me in my first year of professional baseball is getting that routine of every day because every day is pretty much the same day just playing different teams and playing at different ballparks or whatever.
Bobby Witt Jr.:
But just getting in that good routine will really also take the pressure off you and get you in the right state of mind just getting ready for the game or getting ready for a practice or giving into the weight room. And also just having that mindset of just really when something goes wrong, just really flush it. That's kind of how you said just if something goes bad, you can't take what happens in the field and take it to your at-bat. You got to keep those as two different things. You're playing offense, you're playing defense. Two different things.
Bobby Witt Jr.:
And if you can do that, that'll also help you in a way where you're not giving up at-bats because you made the error in the field or you struck out three times in the game, but you got to make the game-winning play at shortstop or wherever you're playing because those baseball gods, the ball is going to find you no matter what's happened in that game and that's something that was also instilled with me just not getting into that big roller coaster effect with having being up too high and whenever things are going really well for you or getting down to low. You kind of want to keep that even path, but always continually trying to get better and better in each and every day. Just those things and there's so many more that I can go on and on about, but those are the really three key things that have helped me get to where I'm at today.
Brian Cain:
So if you were going to go on and on about more some of the other strategies, I think let's start with maybe having you outline for the listeners, what are some of those other techniques and things that you use, Bob?
Bobby Witt Jr.:
I use calling the Success Hotline and I know throughout high school we did that as Coach McDougal wanted us. So we would circle up and we would go out and just one person would get picked in every day. And I know there's guys that are like, "This is the why we got to do this," but really it's helped me so much in life and today, I was talking about how you can be really, really good in the desire that you can have in order to what you want to do, you can achieve it. And once we want to be really, really, really good then that's when everything will click. That's when buying into the Success Hotline, buying into the mental performance 30-day challenge that I just started not too long ago and just doing these little things that people will think, "Oh why, do this?"
Bobby Witt Jr.:
It really does help. It's not just for show, it's people think it's eye-wash but really, if you truly buy into it, it's going to help you and you just take the bits and pieces that you need for yourself because there's no one that's really the same. So just kind of doing that has helped me a lot. And really just seeing things that other people are doing with breathing techniques, meditation and those things. I know Coach McDougal, he was doing that and that he said that that would help him throughout his days and just being a coach with the stress that kind of put on him. He said that really just relieved everything and that's kind of what I started to do too.
Bobby Witt Jr.:
Just before I go to bed, I'll do a little breathing technique thing that I just kind of put with me and kept along throughout the ride and it's really helped me sleep and just get more energy. If you think that these little things would never benefit you, but once you actually do it and you buy into it, it really does.
Brian Cain:
And talk a bit more about the breath because I think when people look at baseball and specific, and you've already mentioned as a part of your hitting routine you would look at a focal point on your bat and take a deep breath. And you've also now mentioned how that helps you to fall asleep at night and kind of wind down and shut off, which I know is a challenge not only for athletes, but for people in general that are high performers and high stress environments, corporate America, education being a parent. And the breath can help you just to slow the heart rate down, to get present, to get connected to the now. Talk a little bit about kind of the benefits of the breath for you if you would, Junior.
Bobby Witt Jr.:
Just first off, I got to the opportunity to hit in the high school home run Derby and that was the thing that probably helped me. There's 40,000 fans. They're all on their feet. I'm hitting second against one of my best friends Rece Hinds and [Bobby Byers 00:16:45] is next to me. Aaron Judge, Mike Trout. I'm walking up to the plate and they're all looking at me like, "What is this kid going to do?" And that's kind of where that breath that saved me right there because right before I got, I don't know if there's a video of it out there or, whatever, but I just take a deep breath and just right there it cleared my mind. I felt like my legs were going to fall out beneath me before that breath.
Bobby Witt Jr.:
But then I do that and then it just triggers my mind like, "All right. You're back here in the box. It's just like you're hitting BP in the cage. Here we go." And just right there it showed me that how much just one little deep breath can really change a whole outcome of a, right there, a home run so everybody could exchange in a season as well whether you're worked up really excited, you're in the ninth inning of a game. You're jittery and everything. You just take a deep breath and [inaudible 00:17:36] make the play. Just like it's in practice. If you make things like it's in practice and when no one's watching, doing the things right and then they'll help you.
Brian Cain:
I heard you saying, I've read this in my favorite book Heads-Up Baseball which I'm sure you've read of you treat a bullpen in spring training like you would game seven of the World Series. So you can treat game seven of the World Series like a bullpen and spring training. Is that something that you really pride yourself on which is that really deep focus and deep work in practice, and taking practice is something very serious as part of your career.
Bobby Witt Jr.:
Oh yeah, definitely. In practice, I try to be as perfect as possible because if you get as close as perfect as possible like I was saying earlier, no one's perfect then you can get as close as to game-like as you can in practice. And that's kind of what Coach McDougal as well put into our team like during BP playing everything out live. We would play the last pitch like everything's live like it's a game seven of a, whatever, state championship or whatever it is seventh inning.
Bobby Witt Jr.:
So we would do that and we'd be making diving plays out there just during BP and it's during practice. Some guys will come out and watch and be like, "Why are you diving in BP?" I was like, "I'm going to be doing that in the game so why not do it here now?" They're like, "It's going to have an affect on your body." Maybe in the long run, but right now I'm trying to prepare for the moment now and trying to get ready for the game to come.
Bobby Witt Jr.:
And that's really helped me just trying to play everything as game-like as possible and then pro ball just taking those… That's the best way to get better ground balls, getting those live reads during BP, seeing the ball off the bat, trying to read the hands and everything and that's helped me a lot just trying to take the things in practice and make them as much as game-like as possible and swings and everything. And then that will really slow down the game for you as you grow up.
Brian Cain:
Bob, if we go back, you talked about the Home Run Derby. And for some of our listeners, I want them to know that this is not your typical go to a field, have a Home Run Derby with your buddies. This was in the day of the major league baseball All-Star Home Run Derby in the same park at the same time, right? Like when they went to cut the commercials and no one's on TV watching the Home Run Derby, that's when you were hitting, right?
Bobby Witt Jr.:
Yes, it was. And it was something I'll never forget. My buddy hit I think six or seven home runs. I was going second and he hit that many then and was walking off and literally standing next to me is I think, Bregman and then Aaron Judge as I walk up. I looked around because he had a ball, I think 480 some plus feet and it was the furthest ball that night. That's what got all the fans on their feet. And then I'm coming up and they're still standing. I'm like, "Oh, okay. Here we go." And then just took that breath like I was saying and it was go time then.
Brian Cain:
And obviously, you're walking the home plate, right? And that's part of your routine and you get the home plate in this situation as I'm sure you have many times in your career in clutch game-winning situations or maybe your first at-bat in pro baseball and you get up there and you feel like the heart's racing or you're a little bit out of control in what we would call kind of a yellow light or a red light and you go to your release to get you back into green. Would you explain in your words what are the signal lights and what does it mean to be in green light, yellow light or red light?
Bobby Witt Jr.:
I'd say at first just that red light is just the jitters whether it's your first at-bat of high school season. I'd always have something no matter what, whether we were up 20 to nothing and playing a game. I'd go up to the plate and I'd still have a little something here and there, but the red light is just where you don't want to be when you're hitting and then just trying to transition as much you can into that green light. And once you're in that green light mode then it's, "Sorry, pitcher. It's over for you."
Bobby Witt Jr.:
You got to have that confidence mentality, but just keep it in your head when you go up there. And that was something for me that I would kind of lack just go on whenever I'd be down throughout my first year pro ball and I'm like on an over eight stunting or whatever, going out just saying, "Oh, this is the same game I've been playing." Just go up there and just relax, just take it easy. Just getting that good mindset, that green light mindset like you're saying and go out there and just try to… You can't be thinking about, "Oh, I got to get my foot down. Oh, I got to do this with my hands."
Bobby Witt Jr.:
When you go up to the plate, it's you versus the pitcher and you got to compete. Don't really think about get all the other stuff out of your head. I think if you have a clear mind going to the plate, that's your green light. That's the green light mode and that's what I'd say that's for me too.
Brian Cain:
Attention athletes, coaches, and parents of athletes. Mental performance is the key to unlocking unshakable confidence, forging unbreakable mental toughness and gaining an almost unfair edge over the competition. So why are so many athletes leaving their mental performance training up to chance and why are so many coaches flat-out ignoring it? Look, if you're an athlete and you know you can perform at a higher level than you currently are, but you're not sure what's missing or if you're coach and a parent who's tired of seeing your athletes fall short of their potential because they lack confidence or mental toughness, and you're looking for a step-by-step program that they can use to master the mental game, you're in exactly the right place.
Brian Cain:
I'm Brian Cain, world-renowned mental performance coach and I've had the privilege to work with Olympic athletes, MMA world champions, major league baseball, Cy-Young Award winners and Heisman Trophy winners on closing the gap from where they were to where they wanted to be in mental performance. And now with my 30 days to mental performance mastery for athletes program, you can get the same training that's helped these world champions close the gap from where they were to where they wanted to be and needed to be to win. Head over to briancain.com and click on athletes to get started today.
Brian Cain:
Bobby, one of the things that you were talking about earlier is the routine, the hitting routine and taking a look at the focal point in your bat and taking a breath. But if you rewind, take us through the entire at-bat process. When does an at-bat start for you and let's say you end with a strikeout or you end with a home run, when does that at-bat end for you? Take us through all that detail if you would.
Bobby Witt Jr.:
I would say just from learning and pro ball and hearing other guys that had the experience that at-bat starts when the pitcher is in the bullpen before the game warming up. You could pick something up with this fastball or where his arm sought as or what's his fastball doing if it's running, cutting. You can kind of pick that up if you could see in the bullpen. And then always just watching whether you're the nine hole or the lead-off guy. Watching that pitcher just to see what he's doing if he's showing any tendencies or anything and then whenever he gets on the mound for his warmup pitches, that's also the start of the at-bat too. And then you're seeing what he's doing, you're getting your timing down and then right when you step in the box, that's when you just got to focus in on what's there right then.
Bobby Witt Jr.:
And you use got to go up there and kind of like I was saying earlier, just compete. Compete to try to beat the pitcher. Try to put a barrel on the ball. That's pretty much the goal right now from what I'm hitting is put a barrel on the ball. And I'd say the at-bat ends whether you're walking back to the dugout or you're on first, second, third, home run, whatever it is, that at-bat ends there and you got to flush that at-bat whether it was good or bad and then just start back over when you're in the dugout. Take that and just watch the game.
Bobby Witt Jr.:
If you watch the game, you'll learn so much about the pitchers the position players and everything. And that's what my dad has also kind of instilled on me just always watching baseball because you'll learn something every day. And one of the coaches for the Royals had spin around for over 40, 50 years. He takes a notebook out and he'll always write down 10 new things each and every day and he's still learning, just being around professional baseball players and just that says how you're going to learn something new every day in the game of baseball if you just watch.
Brian Cain:
What was one of the biggest challenges that you had like as you went from high school into pro baseball? And now you're out there and instead of being a senior in high school where you're one of the older guys in the field and more physically developed now, you're the new guy again. And even though who you were and a top prospect, you still are going in now and playing with other top players from around the world. And you're playing against some grown men that are 24, 25 years old that have been in there. They've got seven more years in the weight room than you do. So when you start making that jump into pro baseball, what was some of the key things that stuck out to you or some of the key things that you learned in that kind of first season of pro baseball?
Bobby Witt Jr.:
Really just kind of first off, just surrounded myself with the good teammates that I had. Just whenever you can build that family, that relationship with them and know that they always have your back and you have theirs, then that takes off some of the pressure there and that takes off some of the eagerness to play. And that just really calms you down and steps you back a little bit. It's always one step back, two steps forward. That's kind of how I put things. And really, if you have that good teammates and especially the Latin players, I was playing with, the cultural change, that was a huge change for me too just playing with guys in infield that don't speak your language, but those guys whenever you gain their respect and that you got their back, they have your back no matter what.
Bobby Witt Jr.:
Those guys are high energy guys and those are the guys I love to be around to play with. And so really, just kind of creating that good culture with your teammates, coaches, and that's what the Royals kind of, I just keep going on and on about them, but it's really what they do for us, the players and everything. Really, that's what gets everyone connected and really wants to win for the team. Not just for the team, but for the coaches, but for the staff, but for the whole organization makes you want to win.
Bobby Witt Jr.:
And I just feel like once I got settled in with that and learned that the organization has got my back and everyone has my back, then that's what got me going and got me feel like that it's the same game that I've been playing since I was four or five years old. You got different teammates now. You're playing at a different ballpark and you're against different guys. So I just zone in on that. I had been preaching, just always trying to compete, always trying to compete and get better. Always trying to compete and win for the team.
Bobby Witt Jr.:
It sounds like too, one of the things that's kind of a common theme that's running through what you're saying about competing is also like controlling the things that you can control. How important has the mindset of controlling what you can control been for you and in this journey of your so far in baseball?
Brian Cain:
That's huge especially in professional baseball because once you get in the minor leagues, everything, you want to work your way up and get to the big leagues. And you can't be looking at guys that are ahead of you or behind you. "Oh, this guy is hitting way better than me. Are they're going to bump them up for me or are you going to go up for him? He's sitting down. Should I switch?"
Brian Cain:
There's a plan for everyone and you just got to trust it. Just kind of like you're saying, control the controllables and once you do those and just where it focus on you in that moment and focus on just doing what's right and what's best for the team, I think everything will just skyrocket up and just go in as some great things for you and for the team as well.
Brian Cain:
Obviously, you've got a lot of things going on in your life and a lot of people pulling at you because of who you are and wanting media requests, and wanting pictures, and wanting autographs and everything. And you've been dealing with that for a long time probably started when you were a freshman or a sophomore in high school I would think. But how do you deal with everything you have going on in your life. How do you work to stay present and stay in the moment and not get caught up in all the distractions?
Bobby Witt Jr.:
Whenever, I just think about it, I just kind of… Like you're saying just live in the present moment. And that's that's also another thing that I go about life as because you look at the past and what is done like my high school career and everything, that's over. I can build off the success, learn from what I did bad and everything, but I can't go back and change anything. That's all done so I just got to build off that and just keep moving on, move forward. And then what's going to happen in three days, you never know. Something crazy could happen.
Bobby Witt Jr.:
When I was in spring training, I never knew that this virus and everything was going to shutdown everything, so I just had to go about that day and leave it all in the field because some of those guys that just went about that one day just going in to practice or whatever a game just kind of not going in at full speed and then boom, this happens. Your baseball career or whatever, sports career is over. Do you really want that to be your last memory of just kind of, "Oh, I could have done more" and then play that what-if game with you the rest of your life? No.
Bobby Witt Jr.:
So that's what puts me in that present moment because now this thing that's going on right now, really it changed me as well too just even live even more in the moment and try to enjoy life to its fullest and live it up, and try to take all the good out of the bad and just learn and keep smiling and having fun through it all.
Brian Cain:
Yeah. I wanted to ask you about that current situation with the corona season and dealing with the COVID-19 pandemic. And obviously, 2019, you get drafted out of high school. They send you to like an extended sort of spring training kind of orientation to professional baseball playing in Arizona and then you go out for 2020, February, March. It's your first full spring training and then all of a sudden boom, it comes to a close with the coronavirus. What has this been like for you, Bobby?
Bobby Witt Jr.:
Yeah. This off season, I put in a lot of work and just with my buddies and everything. So I was really excited. I was ecstatic for the first big training because I grew up going to spring training and seeing it. And now I get to participate in and this is the first one. So I was beyond ready for that. And then this just shuts it down. It's almost like, "Okay, here we go. This is new and back home. I'm back home in April/May where I'm supposed to be playing wherever. I'm supposed to be playing and this isn't right."
Bobby Witt Jr.:
What I put at is kind of how you talk at everything. Just think about good. Now what? What's next? So I just got to live in the present moment and just try to do what I can. What I've been doing is just really just working on the little things and really trying to get my mental skills better as a whole too. Like I was saying doing that for 30 days, mental performance challenge. I'm starting that. I'm on day five now and just trying to get better mentally because during these times, people can fall apart really. And just trying to get better each and every day like I've been saying. I just go out there and just do what I do.
Brian Cain:
So you're going through the 30 days to Mental Performance Mastery Athletes Program that I recently came out with in April 7th. People might be thinking, "Well, why is he going through that? [inaudible 00:32:01] Brian Cain since he was a freshman in high school five years ago. The guy is the second pick in the Major League Baseball Draft. He's got the third biggest signing bonus in the history of Major League Baseball." Why would you want to continue to learn the mental game and go through that 30-day athletes program? What's the purpose for you to do that?
Bobby Witt Jr.:
You look at Mike Trout, the best player in baseball. He's getting better each and every day at baseball and probably at his mental performance and everything and that's what I want to do. I've just set a tone for something that I can just keep getting better and better at and that's how I want to live my life is always trying to get better at each and everything and just trying to always sharpen the iron that I have already built.
Brian Cain:
Do you do that? Do you have a daily routine right now in the corona season? I mean, you don't seem like the guy who'd be watching Netflix until 3:00 a.m. and then sleep until 3:00 p.m. Talk about your daily life right now as a professional baseball player during this pandemic?
Bobby Witt Jr.:
Yeah, that's something definitely just getting in that good routine really because you could just really, like you were saying, just stay up super late, sleeping all day and just repeat. Just have that as a Groundhog Day but I want to get things done and get better like I've been saying. So really I just put it in my head. I should be writing it down and everything, but I just make a mental checklist and I have the Way of Life app and I have three things that I want to do each and every day. And once I do those things and I can pretty much start my day on other things.
Bobby Witt Jr.:
So I just really have that mental schedule in my head to know that I need to do this, this, this, this and once I get that done then I could do the things that maybe not be as important, just always trying to keep my room clean, make my bed, listen to the Success Hotline, do something baseball related whether it's hidden into the net, playing catch, taking ground balls, watching video, watching baseball. Just doing something baseball related just to keep me in that shape and then I'll get on my workout. And I work out Monday, Wednesday, Friday and then Tuesday, Thursday, Saturday.
Bobby Witt Jr.:
I'll get my conditioning and running in. So that's kind of another routine that I have. So I just kind of built off that. I'll continue building off the routine that I have now and just trying to make it better and better and more consistent to each day and kind of more time scheduled.
Brian Cain:
And you talked earlier about kind of a meditation and something that you use. What about visualization or mental imagery, Junior? Is that something that you do consistently where you're always kind of closing your eyes and seeing yourself play and doing the things you want to do?
Bobby Witt Jr.:
Oh, yeah definitely. Whenever I go to bed, that's the one thing I try to do. I'm trying to see myself whether it's playing in Kauffman Stadium hitting game-winning home run in the World Series or just playing in a minor league stadium and helping the team do whatever to win a game. It's not really mental imagery, but actually just having a highlight reel of my performances when I do good. Just having that during this time, it helps me gain and keep that confidence that I have and just saying, "Oh, look. Here's me hitting a home run here. There's me making this play there." And that kind of just puts a smile on my face and just say, "It's going to come back. The game is going to be back and just having that, it's almost like helping your confidence stay going."
Brian Cain:
When you're talking about having that highlight reel, is tn an actual video that you watch or is it a video in your mind?
Bobby Witt Jr.:
Yes. It's an actual video that I have on my phone. When I said video that's probably, I think it was 480 something videos of me hitting and more playing the field and some of me pitching too. So I have a bunch of videos that I would go through and just watch and just remember and kind of take me back into that, but try to build off that and just always have that confidence to a highlight reel, because I know a lot of guys playing higher up in the major leagues that they watch it before every game and just kind of get that "here we go" and stay loose and get that confidence going and then that would get you in the right direction.
Brian Cain:
Yeah, I think that's a tremendous tool that every athlete should create even if it's not a view. Obviously, nowadays, you probably have a lot of video of yourself and some players maybe growing up, they don't have the video themselves. So watching someone who they want to play like. I always go back to an example of one of the only baseball players that's ever been selected multiple times in the first round is a pitcher named Tyler Beede. A pitcher who was with the Vanderbilt, was a first-round pick on Lawrence Academy in Massachusetts, ended up being a first-round pick again I think of the San Francisco Giants, Blue Jays out of high school and then I think San Francisco Giants out of Vanderbilt.
Brian Cain:
I worked with Beede in 2013 with the Team USA collegiate national team. One of the things I used to do is watch video of Pedro Martinez just carving. And I'm like, "Beede, you watch Pedro Martinez." It was only 2013, right? So it's seven years ago. He just didn't have all the footage of himself that he would have wanted to have. I'm sure he does now. But man, having that highlight video of yourself is something that's critical for enhancing confidence, enhancing preparation and making sure that you're keeping that really good self-image for yourself.
Brian Cain:
Bob, one of the things I know that you had text me about earlier and I hope I'm not letting the cat out of the bag here, but you're a reader too, man. I mean, you were recommended a book by one of the coaches in your organization. I think it might've been your manager, Mike Matheny talking about reading. Is that something that you've always done or is that something you picked up now that your formal education in high school is over, you're doing more self-education with reading. Talk about that because I think all leaders are readers.
Bobby Witt Jr.:
That's been something huge because throughout high school, honestly, I did not like reading at all. I did not like doing any of that. And whether it's reading or listening to audiobooks, I think just since high school ended, I think I finished three books now and that's probably more than I… Sorry, teachers. That's more than I probably read throughout high school. But just getting that and just keeping that mind always working. Working the mind, and that always helps too.
Bobby Witt Jr.:
There's books out there that will really change your life and some of the ones that I've read that really it's helped me just as not only a baseball player, but being the young man I am, trying to be the best boyfriend I can be, be the best friend I can be and just be the best coach I can be to help others that are asking for help.
Brian Cain:
What's one of the best book that you've read? What gives the Bobby Witt, Jr. stamp of approval the other people ought to be reading or listening to?
Bobby Witt Jr.:
I would say the first one that I really checked off my list was the… I can't remember what it was. It the Derek Jeter book, just kind of showing his life, his upbringing, everything. Just how he went away about life and that's who I pretty much role model of my game after. And so just kind of whoever it is. I know there's thousands of books about all athletes in there about their biographies or autobiographies, whatever they are. If you want to be like them then you probably should read about them and see what they did as a high schooler like I am and how he worked his way through the minor leagues and what he did once he established himself as a big leaguer. And that's what really helped me.
Bobby Witt Jr.:
Then another book is Fearless by Eric Blehm. I think it was the Navy and the SEAL team and how they went about and did their thing. Just those guys are… Hats off to them. I can't say I could ever do anything that they've done and they go through the mental grind and just the grind as a whole. And just reading and hearing about what they did and just the brutal things that they had to go through just to get where they were. It's really an eye-opener and just to show that I'm just playing baseball and then I strike out and my head goes like this. Well, this guy loses an arm and he's fine about it.
Bobby Witt Jr.:
So what can I do to change and not let that affect me how he changed did not let that affect him? So those books just amazed me and really get me going and get me up. That's just been an opportunity to play for Team USA was also another thing that I would say. Just a little opportunity to show to kind of pay respect to those guys that are overseas fighting for our country and doing what they do, just where that USA across the chest, I get chills just talking about it. There's no better feeling. And I'll just say, if you have any opportunity to do that, if you can, just try it out and just always respect those guys really.
Brian Cain:
It's awesome. And I know you're reading that book right now, Fearless and a lot of mindset and positive things that we can take and use as competitors from Navy SEAL culture and the Navy SEAL mindset. And you've mentioned a word earlier, I want to circle back to of one word that you picked up in a video from Jocko Willink and that one word is good. Would you talk a little bit about how you used good for the course of your career and in your life?
Bobby Witt Jr.:
It started in high school. We had watched the Jocko Willink videos and just some bad happens, good. What are you going to do about it? Coronavirus happens, good. What are you going to do to get better with yourself? What are you going to do to help your family out? What are you going to do to just not go down in that rollercoaster effect? Kind of what I was saying earlier, just what are you going to do to just to be better as a whole and just take those things. Some of those things are bad, but you can find something good in it in ways, but I just think that having that mindset just, "Oh, you make an error, good. Hit me another one. See what happens."
Bobby Witt Jr.:
It's almost like a confidence booster and it's not like you're making fun of it or whatever, but it kind of just gets you back up. If you're down at the moment, but once you say good, it just uplifts you back up.
Brian Cain:
Yeah. And it gives you something to go to and I think that's one of the biggest things that I've taken out of this podcast and listening to you talk is Bobby, you got some tools, man. You got some tools that you can use when things get hard, when the pressure hits, when you feel like your heart is going to explode out of your chest and you're walking the home plate in front of 40,000 and you got the who's who of Major League Baseball or on home plate watching you hit. You've got some tools to use when you're the new guy in a professional organization and a team, and everyone's looking at you as the guy in the organization that has made the biggest investment in.
Brian Cain:
You've got some tools to be able to handle the pressure that's coming your way. When you look around a clubhouse and you look around other guys in professional baseball and I know you haven't been a player there for six months now. And not even an entire academic full year. But do you look around and say, "Man, I can't believe some of these guys here. They don't have any concept of mental training and things that you've been doing since you were a freshman in high school. Are you shocked sometimes that guys at that level still don't have that type of training yet?
Bobby Witt Jr.:
Yeah. I'd say definitely just because of how much of a success that I've had with using it and how much better guys can get with using it. I think that everyone whether you're playing any sport or just even just a student in school, it helps you study, do your homework and anything. I just feel like it just makes you just look at things differently as a whole if you truly buy into it and not just think that, "Oh, it's kind of. Maybe I'll do this or that." Just really if you just go all out all the time with what you do and if you're doing that right with your mindset, then your mindset towards everything will be great.
Bobby Witt Jr.:
And I've been watching the Michael Jordan show, The Last Dance and you look at his mindset and just the way like why can't everyone be like Michael Jordan? Why can't everyone have that mindset? Because it's just he bought in to that. He was all in to his mindset of being the greatest there ever was and look how he ended up. He's the GOAT.
Brian Cain:
It's funny you mentioned The Last Dance. I didn't know that this show was even coming out or existed until I heard Dr. Gilbert talk about it on Success Hotline, so I started watching it. As I'm watching it, I remember something that Gilbert always said. He said, "If Bobby Witt, Jr. and Michael Jordan meet together on a basketball court," and maybe you're not the best example. Let's say I end up on a basketball court with Michael Jordan. Who's a better athlete? And that's why I had to take you out of the question. Who's the better athlete? Jordan is better than me. You might be comfortable. He said, "Who's taller? Jordan. Who's faster? Jordan. Who's got the better basketball ability?" Jordan, Jordan, Jordan all day. He says, "You might not be able to match his physical traits, but can you match his mental traits." And the answer to that is yes, because the mental is more trainable. How tall are you right now, Bob?
Bobby Witt Jr.:
About 6'1″, 6'2″
Brian Cain:
6'1″, 6'2″. If you could be 6'6″, you probably would take it, right? But I don't know how we grow to be 6'6″. We can't control that thing. But the one thing you can control is do you have the Mamba mentality? Do you have the Michael Jordan mentality? As you watch The Last Dance, let me ask you this because I know a lot of listeners are going to be either watching it or they're going to start watching it. What are you taking from that that you're going to apply into your game or into your mindset, your toolbox. What are you learning that you're going to take and use?
Bobby Witt Jr.:
Just how he didn't only just lead by example on the court, but he helped those guys off the court. And he wasn't the guy just said, kind of be like, "I'll do that." He got on the guys. He was getting on to Scottie Pippen. He was getting on to these guys that are absolute studs and he wasn't afraid to show that. What he said, every game he left it all on the court. And whether it was practice he's leaving on the court and so he never wanted to make his last appearance on the court to be a bad one.
Bobby Witt Jr.:
He always just left the field and he emptied his tank every time and that's what shows me how he did it for so long and why can I do that playing baseball and just trying to get my mind where his is in order to succeed that is the next challenge in my life and that's what I've been working on. That's why I'm working on it now during this coronavirus time where I can't go be playing on a baseball field with my teammates or anything. That's why I'm right now trying to kind of ignite that fire into trying to be the best I can off the field and now on the field when the time has come.
Brian Cain:
And I think Jordan, one of the things that I learned, I didn't know about him during The Last Dance was when he started with the Chicago Bulls, the Chicago Bulls were one of the worst teams in the NBA and they were getting out drawn in attendance by the Chicago Sting, the soccer team that played in the same city. By the end of his first year, they were selling out games, right? And Jordan, when he went into the Bulls as a draft and Jordan, I think was the third pick in the draft, I think when Hakeem Olajuwon, Sam Boyd, I can't remember the second guy's name because he was not Michael Jordan.
Brian Cain:
The mentality that he had going into that first year and he said, "I was going after the leader on the team. I was going after the alpha male." And whether that was in the weight room, whether it was on the field, whether it was in conditioning, whether it was only on the court or when we played, and he didn't do it with his words. He did it with his actions. And I think one of the things that's so impressive about you, junior is you do that same thing. You do it with your actions, not your words.
Brian Cain:
You're a guy who's going to walk the walk, not just talk the talk. And probably not ever talk the talk. I mean, the framework, I had from Alan McDougal in the Sports Illustrated article about you where you were on the cover of Sports Illustrated was, he said, "Bobby Witt's big league in every aspect of his life except he's never been a big league anyway." And I think that is a lost art and I think that's something that I want to thank you for, for modeling and showing young people this is how you're supposed to do it.
Brian Cain:
So if you were to leave a message with a high school athlete who's out there right now, who wants to achieve success in their life and in their career, but they're still kind of laying the groundwork and forming sort of that right mindset in the right habits that you've obviously established, what would you say to that young athlete to try to give them some strategy they can use moving forward to be more successful?
Bobby Witt Jr.:
Really the first thing that comes to my mind is just how do you want to be remembered and just kind of how you were saying and thank you for all those words you said about me and everything and that's how I wanted to be remembered. I want to be the guy that not only on the field that respects the game, but off the field respect the people because one day a while ago like a long time ago that I was that kid that wanted the autograph or wanted to say hi to this guy or wanted to watch this guy or just see this guy play.
Bobby Witt Jr.:
Going back to Michael Jordan. You go and see and watch him one game. He doesn't want that one game to be, "Are you going to watch him?" You only get to see him one game. He doesn't want that one game that you show up to see him play, that one bat game or see him not go all out. So every game that's kind of how I put myself and that's how I think that don't let that one game happen where someone comes and sees you and that's how they remember you. Just always make sure that you go all out on the field all the time and just respect the game, respect others, because you never know when you're going to be coming back to them in life.
Bobby Witt Jr.:
And so just really how do you want to be remembered and laying it on the field and don't let that game happen where you don't leave it on the field and that one person that makes impact on your life sees you not go all out.
Brian Cain:
It makes total sense and how you want to be remembered is something that you're doing day to day. And I think something I'll never forget when people ask me about Bobby Witt, Jr. was at the end of spring training or at the end of your first, I think full season of professional baseball, you get drafted in 2019. You go and play in Arizona and we get the opportunity to get together play around a golf where I think together we probably set a course record for the most number of shots by people in the golf cart over the course.
Brian Cain:
You're getting ready to drive back to Texas and leave Arizona and I wake up and there's a picture on my cellphone that you text me of your truck and it said one word, good. Would you tell us that story because I think it just summarizes how you've taken everything from the mental game of baseball and put it into your life on a daily basis.
Bobby Witt Jr.:
Yeah. So the day before I was going back home from [inaudible 00:50:13]. It was a month with just kind of workouts, just getting you back, getting you ready for the off-season and we just went to golf. I think it was a day before or two days before that and one of my friends come into my room, knocks on my door and gets a room key to my room and like wakes me up and is like, "Hey, man. Your tires are gone." I'm like, "What?" It's like 2:30, 3:00 a.m. in the morning and I go downstairs and I got a new truck. After the season ended, and that was my first really big road trip. I drove out to Arizona and had it out there. And the day before we're leaving, and I go out there and my tires are gone. My car is on cinder blocks, just sitting there. I'm just like, "Oh my gosh. What's going on?"
Bobby Witt Jr.:
So went on, woke up the next morning. I went back to sleep. The cops, whatever, came, filled out paperwork. They never found the guys who did it. So I wake up the next morning and I see there and that's when I'm just like, "What am I going to do about it?" Am I going to make it ruin my day or am I going to finish the last day of [inaudible 00:51:16] kind of getting me ready for the off-season and setting me up on a good note and just kind of laugh off this memory.
Bobby Witt Jr.:
As soon as I walk in walk into the clubhouse, everyone sees it because it's right in front of our team hotel. The vans are going by it, all the guys. Some of the Latin guys are like, "Your truck, Bobby." They've been laughing at me. It was awesome. It wasn't awesome, but it was funny. Just going to the field and everyone just looks at me and we just all start laughing. I just was like, "Well, what am I going to do about it?" Am I going to get mad about it and make it ruin my day? No, I'll just try to get it handled, get it fixed and just move on and this will be a moment that I'll remember pretty much for the rest of my life and just look back. I look back at it now, and I laugh about it. I don't try to make it hard and make it upset me at all. So it was a fun ending to my 2019 season.
Brian Cain:
Yeah, and I just remembered the text message of your truck and it says you come out and your truck is on cinder blocks. Wheels are gone, good. And I cracked a smile and was like, "Man, I don't know how I would have handled that but that's probably not the first thing that would have came to my mind." And probably some other four-letter words, not beginning in G and ending in D, good. But it was amazing that you sent that. It was fun you said that and I think that kind of just summarizes how you take in mental game and apply it to all aspects of your life. Bobby to bring this podcast to a close, man, Alan McDougal who was your high school baseball coach and I said, "Hey, tell me again about Bobby, things that he wouldn't say about himself and things that we may not know," but he would know because he's been around you for four years of high school.
Brian Cain:
And he said, "Junior has a constant desire to be the very best. And he could roll out of bed and be better than most, but that's not his goal. He knows that common people get common results and he wants to be uncommon of what he does on a daily basis to set uncommon records and get uncommon results in the game of baseball, but more importantly in all aspects of his life." He says also, "While Junior is the most talented kid I've had the opportunity to coach, he's also the most selfless person I have ever coached. He truly gets that the way to the top is to help others."
Brian Cain:
He says, "I was constantly, daily amazed at the kind heart he had for others as I watched him interact with kids, teammates, opposition, friends, family and fans." He's a pro in every sense of the word. For four years, I could tell members of the Colleyville Heritage High School Panther Baseball Program to just watch number 17. Follow his lead and you'll be headed down the right track. This went for players and myself, and I was honored to be able to give my son, Jackson the same advice to just watch his lead."
Brian Cain:
Bobby, it's been a pleasure to get to know you. It's been a pleasure to have you on the podcast. Thank you for joining us. And listeners, be sure to follow the career of Bobby Witt, Jr. on Instagram. It's bwitter15. Is that right?
Bobby Witt Jr.:
Yes, sir.
Brian Cain:
It's B-W-I-T-T-E-R 15 on Instagram. Bobby, thanks for coming on to the podcast, man. Looking forward to watching your career.
Bobby Witt Jr.:
Yes, sir. Thank you for having me. I had a blast. And for everything you've done for me and just everyone out there, just always have fun and stay humble and kind.
Brian Cain:
Thank you for listening to the Brian Cain Mental Performance Mastery Podcast on the Ironclad Content Network. If you liked this show, be sure to leave us a rating and a review and don't forget to follow me on Instagram and Twitter @BrianCainPeak.