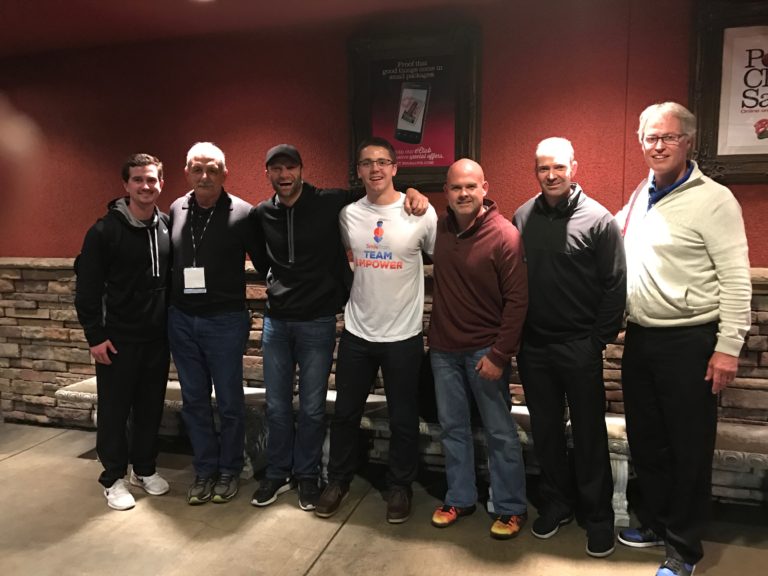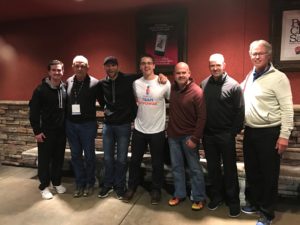 It's not everyday that while in the midst of your major league baseball playing career, you develop a desire to do something else, while you are still playing.  For Zach Sorensen, MPM (pictured here after a dinner at the National Baseball Coaches Convention with myself, Dr. Ken Ravizza and Dr. Tom Hanson, authors of Heads Up Baseball and Alan McDougal, MPM head baseball coach at Colleyville Heritage HS in Texas) that something else was becoming a mental performance coach in professional baseball.
Zach was a standout, 3x All-American at Wichita State, and a 2nd Round Draft Pick of the Cleveland Indians in 1998.  He would make his Major League debut on June 3, 2003, playing parts of 3 MLB seasons from 2003-2005 as a role player with the Indians and the Los Angeles Angels.
While in the midst of his major league career, Zach experienced the power of mental performance coaching and saw first hand in himself and other major league players the advantages of having had mental performance coaching and the disadvantages that came without.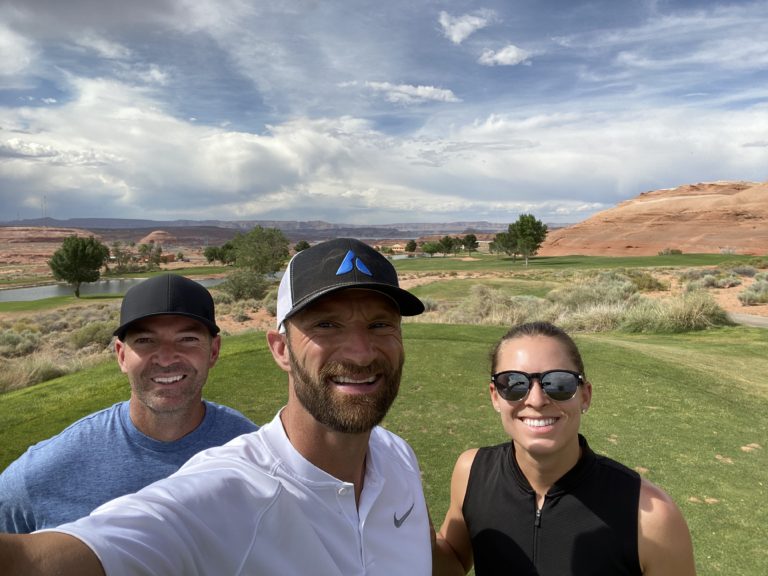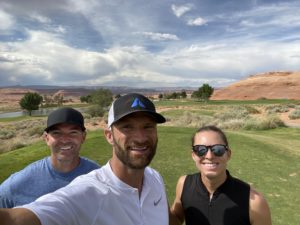 Zach and I have been friends and colleagues since 2016.  Our families now vacation together (he is the only former professional baseball player I know worse at golf than me, pictured here with me and my wife at Lake Powell golf course in Arizona) and he has become a close friend and colleague. He is currently the head of the mental performance department with the Atlanta Braves and has also worked for the Texas Rangers.  Zach's experience both coaching professional athletes and competing as one gives him unique insight into what mental performance secrets the pros use to compete at the highest level. 
In this podcast episode, he'll share what he's learned and how you can use these same strategies with yourself as a player or with the players you coach. If you apply what you learn in this podcast and the mental performance mastery coaching certification it could be you that current major league baseball players than in a press conference for helping them turn their careers around like Atlanta Braves pitcher Kyle Wright does here with Zach.
SORENSEN PODCAST NOTES
1:15 – "Don't hit me the ball"—The surprising truth about how even major league players fall into the trap of negative thinking
1:40 – The life-changing advice Zach was given by Toronto Blue Jays president Mark Shapiro about how to find your passion
2:00 – The biggest "gap" Zach sees in sports—from high school through the pros—and why there is no amount of physical preparation that will replace this crucial aspect of performance
3:00 – Do you need a masters in sport psychology to coach mental performance?  You will be encouraged by his answer
4:00 – The difference between a master's degree and the MPM Cert Course… and which one holds more value in the real world
4:40 – The key difference between a sport psychologist and a mental performance coach—and why knowing this is crucial for your career
6:50 – The ONE surprising piece of advice two of the world's top baseball players would give to help athletes get from where they are to where they want to be
8:00 – The key to maximizing your time when you're busy so that you can accomplish everything you want and need to do each day
9:00 – Why most people struggle with time management (and the shift you need to make to instantly be more productive)
9:10 – A simple formula you can use to guarantee greater productivity
10:30 – The coaching triad—and how most are completely overlooking one of these crucial aspects of coaching
11:15 – Why most of the time, "Get 1% better every day" is motivational BS, and how you can take this from a "great idea" and put it into action
12:45 – Stop guessing: Here's exactly how to KNOW if you are getting better this week
13:30 – How doing pushups can teach you a foundational principle that will allow you to improve any part of your life—predictably and consistently
14:05 – A simple and easy way to check if your clients and athletes are getting better with intention
14:30 – The #1 way to build confidence (works for every athlete, at every level)
15:30 – What you need to know to be a successful MPM coach
16:15 – How do you create the right culture in your program? It's all laid out in the MPM certification
16:45 – The MPM cert is not a textbook… it specifically gives you the tools, strategies, and resources you need to get real results in the real world
17:40 – Zach's advice for people who are on the fence about the importance of coaching mental performance
18:10 – TCU Baseball Head Coach Jim Schlossnagle says mental performance coaching and the MPM system is life changing
You can connect with Zach via email [email protected] on Twitter @zsorensenphenom and on Instagram and Facebook @zsorensen.phenomsports.
You can also engage with me at my website at briancain.com and on Twitter, Facebook and Instagram @BrianCainPeak