Over the past few weeks, I've shared practical strategies and methods athletes can use to break through the barriers that hold them back, and to develop the confidence and mental toughness needed to consistently perform at a higher level.
I've heard a ton of great feedback from the videos, articles, and social media posts covering this information—from athletes, coaches, and parents of athletes.
Today, I want to take things a step further and share a "case study" from a UFC Hall of Fame athlete that I've worked with, to illustrate just how powerful an impact mental performance training can have.
As you read, think how this could play out for you… for the athletes you coach… or for your kids who are athletes.
A Glimpse into how mental performance is the missing link in elite athletic performance—from MMA World Champion, Rich Franklin.
Rich Franklin is a former Ultimate Fighting Championship (UFC) Middleweight Division (185lbs) World Champion and reigned the division in 2005-2006.
The Cincinnati-born Franklin, who has a bachelor's in math and a master's in education, was a high school math teacher at Oak Hills High School in Cincinnati, Ohio, before becoming a full-time fighter.
Franklin, a veteran of 37 professional fights during his 13-year career, earned a record of 29-7, 1 NC (14-6 UFC), which included wins over UFC Hall of Famers Ken Shamrock and Chuck Liddell, former UFC middleweight champion Evan Tanner, and former PRIDE middleweight champion Wanderlei Silva. He was also one of the two head coaches on The Ultimate Fighter, Season Two.
On July 5, 2019, Franklin was inducted into the UFC Hall of Fame. He currently serves as the Vice President of the Asian Mixed Martial Arts (MMA) company ONE Championship.
I first met Rich after his UFC 77 loss to Anderson Silva and we worked together for the remainder of his career.
What always impressed me the most about Rich was not his ability inside the Octagon as a World Champion or his knockout power; it was his commitment and dedication to process, professionalism and getting the very most out of his potential.
In the rest of this article, you'll hear directly from Franklin as he discusses how mental performance coaching is one of the most underrated and most important aspects of training to be a professional athlete and World Champion.
If you sat down with Rich for an hour or two and "talked shop" about how mental performance has played a role in his success, here's what he'd tell you…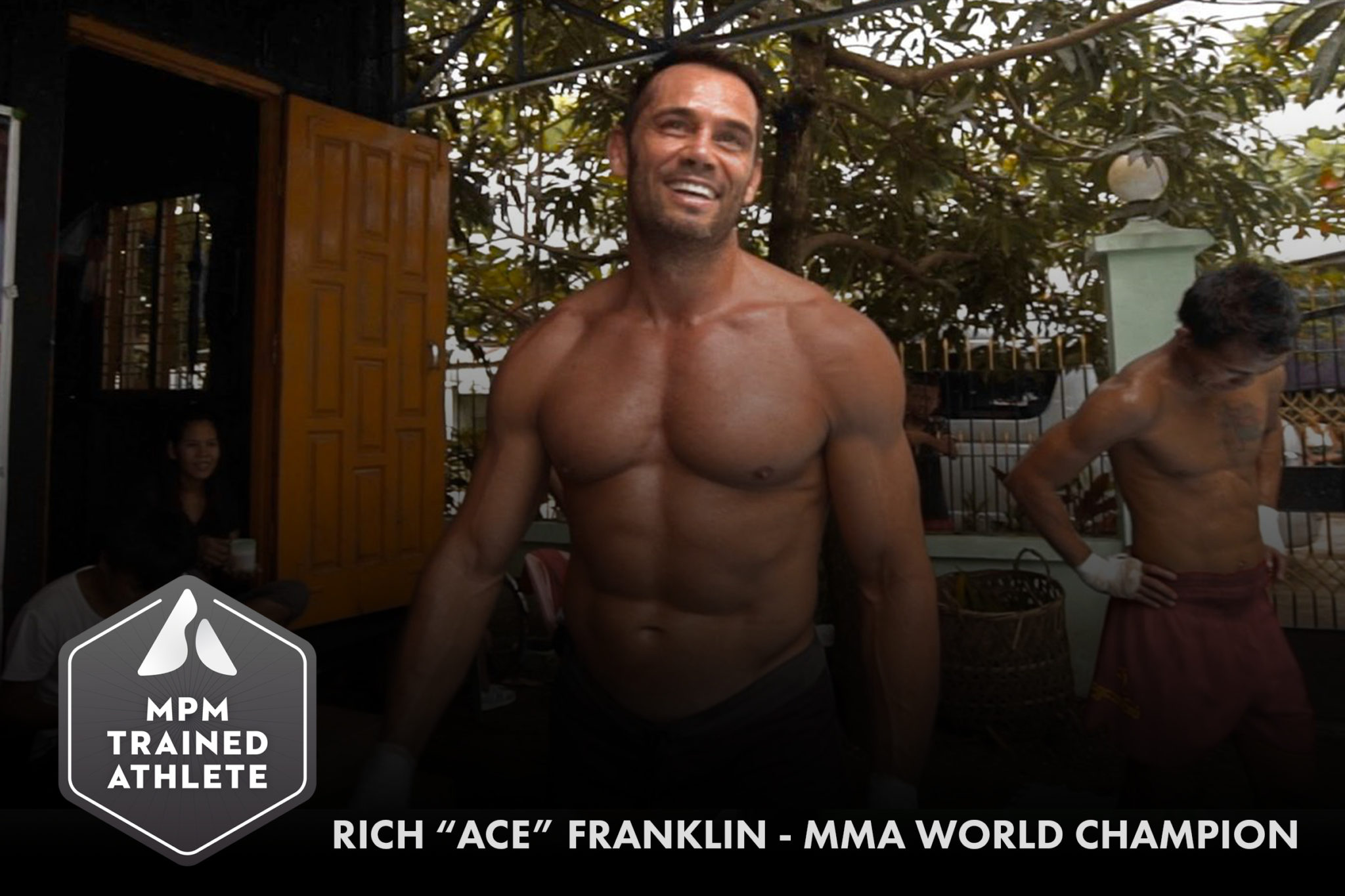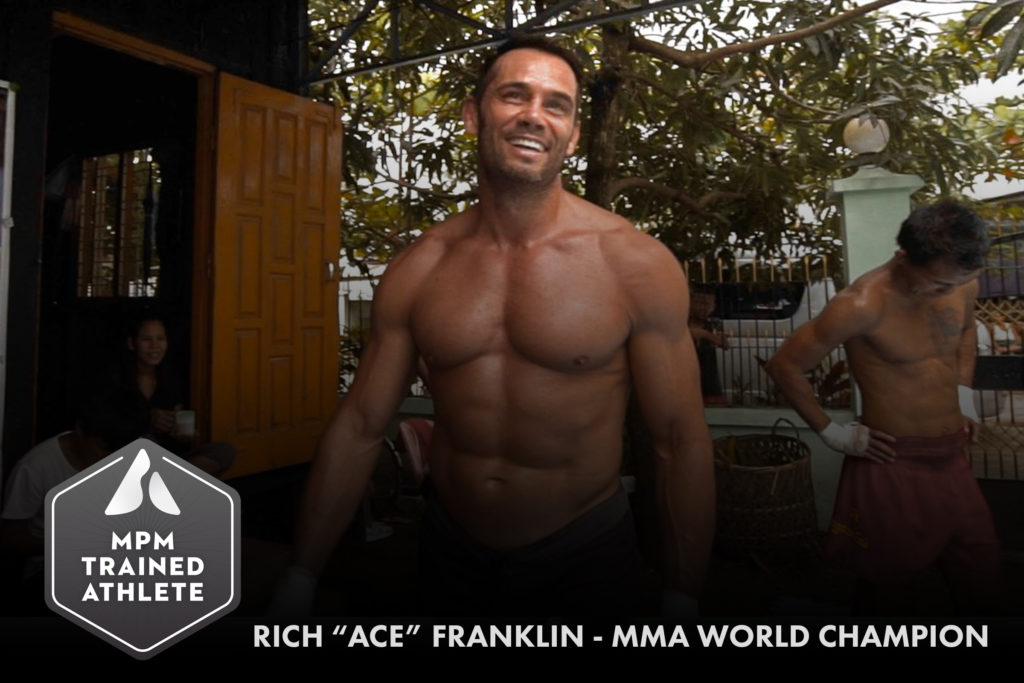 TRAINING IS PHYSICAL -> MENTAL SHIFT OF FIGHT WEEK
Enter: Rich Franklin (all words below are directly from Rich).
Preparation is 90% physical and 10% mental, yet when the fight comes, it is 90% mental and 10% physical. I have had a very successful career and feel that a large part of that has been due to my physical preparation, but also my mental preparation. What we discussed on the podcast (LINK TO COME) yesterday was how people make the mistake believing preparation is 90% physical and 10% mental, when you can actually attribute so much more to the mental aspect.
Though you are physically going through drills, sparring, etc., on a daily basis, you cannot underestimate the amount of mental focus needed. If, for example, you are not able to focus on executing with excellence and improving every single rep, that "90%" physical is worthless. The point is… we know the importance of the mental game the week of, but we underestimate the value during the process.
When you get to the arena and you go to weigh-ins , in all that happens the last 24 to 48 hours, it becomes a huge mental game.
Many athletes think their mental preparation is working harder physically and they don't know about mental imagery, breathing exercises, recognizing signal lights, that confidence is a choice, and the importance of acting differently than how you feel.
Many athletes, even at the highest level, don't have a mental game plan for peak performance.
CONFIDENCE COMES FROM PREPARATION
I know that if I work myself harder than I think is possible, then I will have the confidence going into the fight knowing that there's nothing more I can do to get ready physically.
Going into a fight, you have to have confidence that you have done all of the work physically to prepare, or all of the mental performance work you do fight week won't help you as much as it should.
When I first started out as a professional athlete, I thought you had to do the physical first and then the mental. I've since learned that if you are going to be consistent over time and give yourself the best chance for success, you must do both—and most professional athletes leave the mental part to chance.
I also believe now, having that you need to do the mental work first… Let me give you an example: If I go into training without a clear head, I will not be as focused on the process as I could be, only obtaining a portion of the benefits from all the physical training that day versus getting as much from that session as I could. Maximizing your training each day is more mental than physical. You can do the work physically, but if you aren't fully present and aware, you're not going to get all the benefits as you would if your mindset was locked into what you were doing.
MENTAL IMAGERY, BREATHING AND TRAINING THE RELAXATION RESPONSE
Doing meditation, mental imagery and breathing exercises outside of the gym helps you to train the relaxation response that you need to dial up with your body language, focus, breathing and self-talk before you walk to the cage on fight night.
When you can control your breathing and the relaxation response, it lowers your cortisol, lowers your heart rate and gives you that feeling of relaxed intensity and relaxed confidence that comes from mentally knowing "I've been here before."
You have the feeling that you have already gone through this before and deserve to go out there and be successful. It helps you to deal with the anxiety that you often feel on fight night as a fighter.
WORLD CHAMPIONSHIP LEVELS OF ANXIETY AND SELF-DOUBT
No matter what you do, there's always going to be some anxiety and a little self-doubt going into an important competition, especially on fight night.
No matter how confident you are, there is always going to be a fear that you can lose the fight or not get the outcome that you are looking for.
Mental imagery as part of the preparation process helps you to deal with that anxiety the night of the fight.
By the time I walk into the cage, I feel like I have been there before. The mental imagery does help with the anxiety, but you also need to accept that the anxiety feeling will always be there.
Sometimes that anxiety can take control of you. What the mental game does is it gives you something to go to so you can deal with the anxiety feeling. You can act differently than how you feel, or "fake it till you make it."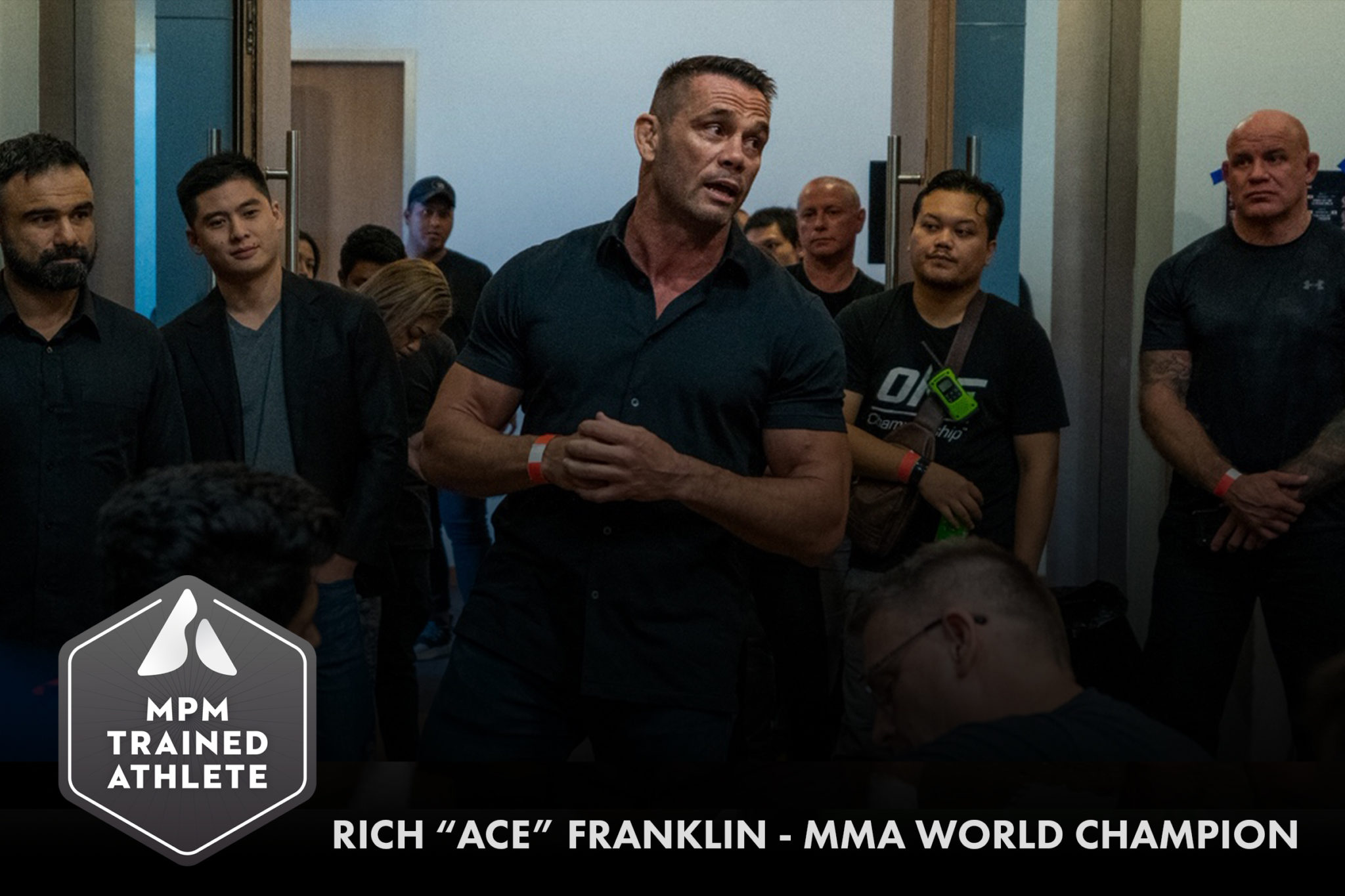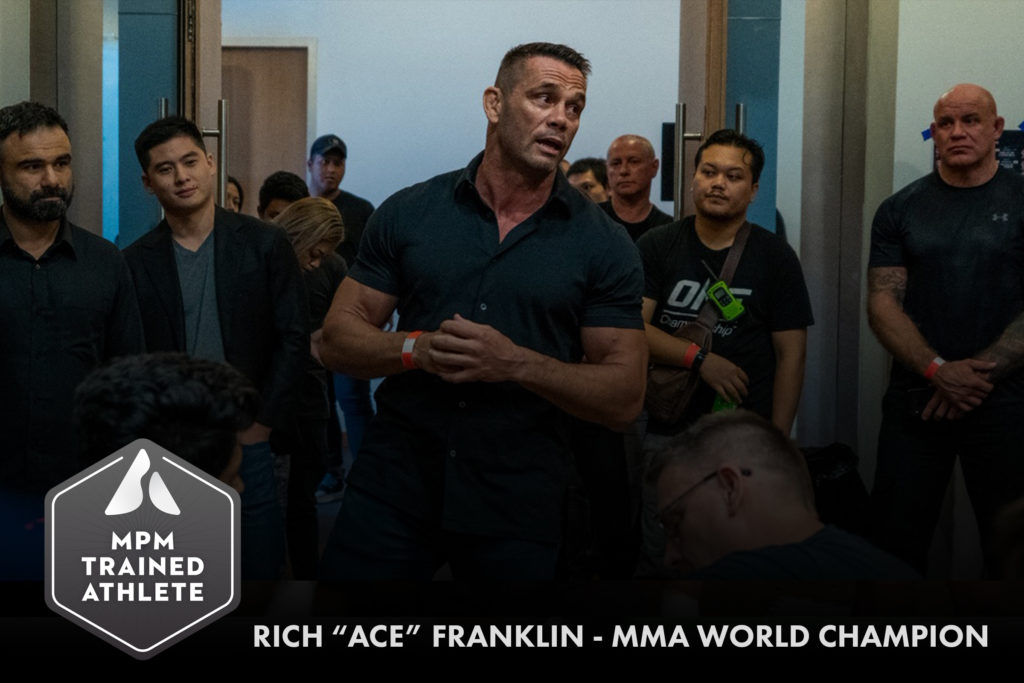 THE BUTTERFLIES NEVER GO AWAY
I thought that working with Brian Cain, a world-class mental performance coach, would make those anxious feelings and all the fear go away. I thought that once we started working together, I wouldn't have to deal with it anymore.
I liked the thought of that.
I liked the thought of not being afraid before a fight. Nobody wants to feel that anxiety. Nobody wants to feel butterflies in the stomach before you go fight one of the best fighters in the world.
What I have learned, and this is so important for all athletes to learn, is that those feelings—the butterflies and the anxiety—are never going to go away. Those feelings are just a part of the competition.
There is a difference between allowing those feelings to worry you to the point where it affects your performance negatively, or channeling those feelings and energy to help take your performance to another level. You want to use that fear as fuel.
Georges St. Pierre reminded me you want to get the butterflies to fly in formation. The anxiety/excitement is always going to be there, but you have to start to view that anxiety and view those butterflies as a positive, an excitement—not a negative "anxiety" that will keep you from performing at your best. You have to learn to view anxiety as excitement.
Physiologically, you have the butterflies because the blood is being pulled out of your stomach, and going into your extremities, helping you to get ready for battle.
Embrace that feeling you get before a fight or competition.
There aren't that many times in your life where you get those butterflies and get that feeling. Those feelings mean you are ready to go and it's time to reap the benefits from all of your preparations and hard work leading up to that moment.
No matter what happens, I'm going to be nervous going into my fight.
I just had to learn to like those feelings. They aren't going to go away physiologically. It's reassuring knowing that the body has a physiological response to stress and there isn't much I can do about it but embrace it and run towards it versus away from it. Run to the roar, as Brian would say.
I'm nervous when I'm sitting in the locker room—and I know that I'm nervous and I know that I'm scared—but to know that I am not the only one who feels this way, that there's not something wrong with me and that it's totally normal to feel that way has made a big difference in how I deal with those feelings. This is a run-on sentence… particularly the part after the last dash.
CONTROL WHAT YOU CAN CONTROL
One of the foundations of mental performance is being able to control what you can control, staying inside your circle of control and letting go of all those things outside of your circle of control.
One thing athletes experience, regardless of the athlete, is that when they assess a poor performance, they realize they were too focused on the things they could NOT control.
Before working with Brian, most of my stress, anxiety and concerns going into a fight were outside of my control.
I would get stuck on what people were going to think if I lost or did not finish the fight with a KO. I have learned that what other people say and what other people think are outside of my control and I can't worry about things outside of my control.
ALL ATHLETES SHOULD HAVE A MENTAL PERFORMANCE COACH
I think any athlete, especially MMA fighters and combat sport athletes who want to take their performance to the next level, should try working with a mental performance coach.
It's going to give them an edge, especially if they are already doing all the physical work necessary to be at the elite level.
YOU BECOME THE AVERAGE OF THOSE WHO YOU SURROUND YOURSELF WITH
Elite athletes wouldn't try to run their own practice. They have coaches to cover nearly every aspect of their training, but the mental aspect all too often falls into the category of something athletes believe they can handle on their own. I made this same mistake early in my career, but mental training should be treated as importantly as any other aspect of training.
If you want to be the best, you can't get there on your own. You need to surround yourself with great coaches. Everything is done so much more efficiently with a great coach. The coach is specializing in that one area and you often realize that you don't know as much as you think you did anyway.
Working with a mental performance coach can be a time-consuming process. You're adding a completely new element to the preparation of your preparation. It's just like you would spend time in your gym lifting.
You have to invest time on a daily basis to doing your mental performance training. Some of the training I used to do was:
Mental imagery and visualization of my upcoming performance

Meditation, breathing and self-regulation exercises

Speaking with my mental performance coach at least weekly about what I was feeling and where my mind was at

Conditioning my green-light statements and positive self-talk by writing them down or listening to them on an audio that my mental performance coach had made for me

Establishing the routines and habits you need to be elite on a daily basis, including AM and PM routines
If you don't put the time and effort into your training, it's not going to pay off for you on the night of the fight. This is like adding another aspect to your training.
Fighters and athletes need to look at mental performance coaching as something that they train, just like the physical aspects of their sport.
Most athletes make the mistake of thinking they need to work harder, when what they really need to do is work smarter. Understand that the mental component of competing at your best when it means the most is more than the physical because when it's time to compete, the physical work is done.
When competition time rolls around, the training is done. The hay is in the barn. And if you've cut short your mental performance training, when that cage door shuts and it's just you and the other guy, it's about 90% mental. You will wish you had done more mental preparation leading up to the fight or up to that moment.
Mental performance training made a huge difference in my career and I highly recommend that you give it a shot. Working with Brian Cain will give you an edge that you just can't get any other way.
"In order to get the most out of your potential, you must train physically and mentally with the best coaches in the world. Brian Cain is that coach when it comes to mental performance."

Rich "Ace" Franklin
VP ONE Championship
MMA World Champion and Hall of Fame
Your next step: Discover the systems and secrets I use to help world-class athletes perform at an elite level.
Over the past few weeks, my email, phone, and dm's have BLOWN UP with coaches and athletes asking what they can do to continue growing as an athlete during this time when they can't meet with their team in person.
The 30 Days to Mental Performance Mastery course is my answer. And next week, on April 7, I'm opening up registration (for a limited time).
Listen, we don't know how long this is going to last, but here's what we DO know: While circumstances aren't ideal, this is an incredible opportunity for you (or those you coach) to spend 30 days mastering the mental game.