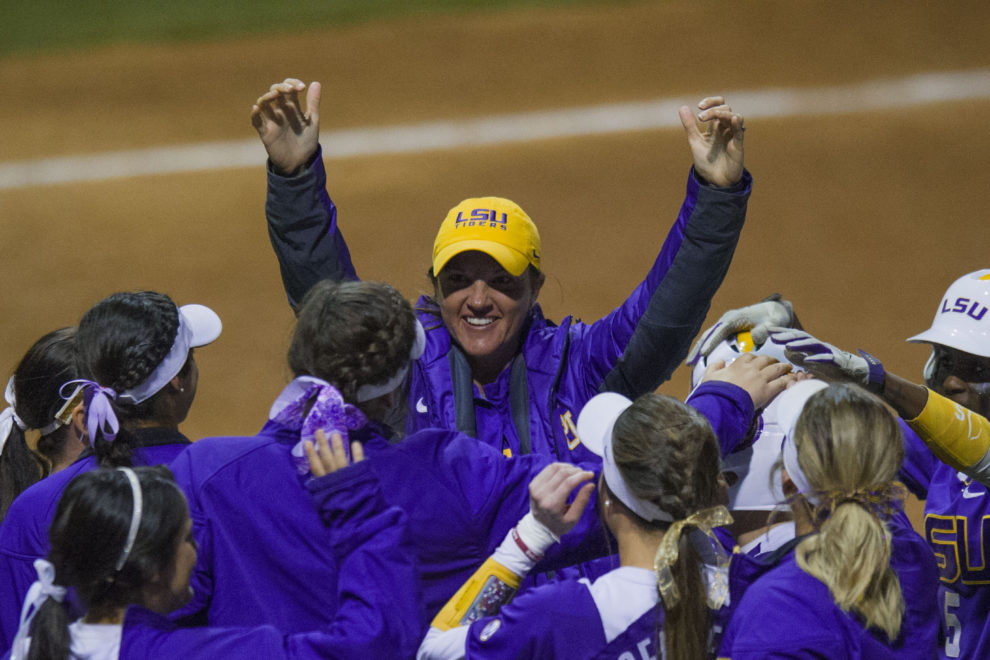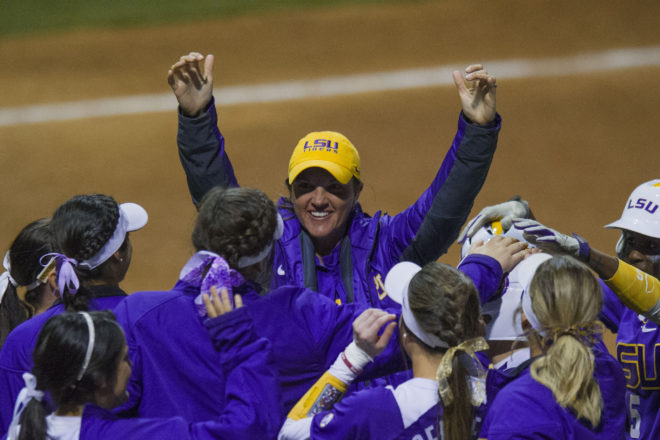 Get this FREE MiniCourse to help your athletes perform their best, overcome any obstacle, and stay focused under pressure.
[gravityform id="3" title="false" description="false" ajax="true"]
This article is a feature interview with Cal State Fullerton Baseball Coach George Horton. Horton led the Titans to the 2004 NCAA National Championship and was named the 2003 and 2004 American Baseball Coaches Association National Coach of The Year.
Could you describe your working relationship with sport psychologist Ken Ravizza?
Ken and I have worked closely on the Mental Game for a long time now. What he brings to our program is a load of experience in teaching the Mental Game and the ability to relate that part of the game to our players in a classroom type environment.
Ken brings another voice to the team and does a tremendous job in relating to our players what they have to do from a Mental Game perspective to be successful. The guys in the program really enjoy his presence. He was as much a part of the 2004 National Championship as anyone else.
What mental toughness techniques or exercises had the most impact on the players?
The biggest thing was to change their perspective. In the middle of the season we had gone to Austin, Texas and got swept by the Longhorns and it was not even close. The energy on the team was as low as I have ever seen it; I think that the staff and players were thinking that this was a rebuilding year and that we were going to struggle.
Ken came in and talked to the team and the first thing he asked us was what we were doing well. We were playing good defense, and up to that point, I think to a man we were all focusing on the negatives. The next thing he told us was that we had an opportunity to do what no Titans team had ever done before.
Most of our guys were thinking, 'Yeah, be the first Titans team to go unranked for a long time,' but what he said was, 'be the first Titan team to go from under .500 at the middle of the season, to being National Champions. That really caught our guy's attention.
He then asked our guys to 'Think how good it is going to feel' when you get to Omaha? From that point, you could really see a weight lifted off of our guy's backs. P.J. Pillitere one of our veteran players would write that saying 'Think how good it is going to feel' on the dugout wall. Our guys rallied around that saying.
At the middle point of our season we were all caught up in the results and since we were not getting the results we wanted, we started to press. In baseball you have no control over the results; all you can do is play one pitch at a time and work the process. We all got back to the process, quality at-bats, quality pitches and playing the game one pitch at a time. I think that helped turn it around for us.
Talk about the year you made the amazing comeback to win the NCAA 2years ago. What factors do you attribute to the turn around that season?
I think a lot of the stuff that we talked about before, changing the collective perspective, getting back to the process and focusing more on one pitch at a time and controlling what we could control.
I think another factor was that our guys continued to work hard everyday. Our staff, Dave Serrano, Rick Vanderhook and Chad Baum did a great job of staying on top of the fundamental work that needed to happen everyday with our guys for them to continue to get better.
We had a very special group of Titans that year and I think that there chemistry on and off the field also helped us to turn it around. They were as close a knit group of guys as I have coached, they all pulled for each other, it did not matter who was at the plate or on the mound, we had all 25 guys pulling in the same direction and when you get that going, special things will happen.

How did you as a coaching staff re-enforce those techniques?
Our staff had been intact for a long time and we had always been big believers in the Mental Game, but often got caught up in the day to day operations of a baseball program and sometimes did not re-enforce or talk about the Mental Game as much as we probably could or should have. In 2004, we really made a conscious effort to re-enforce the techniques that Ken was talking about.
We would spend more time talking about each of our player's routines and the importance of taking that good deep breath as the pitcher comes set, or as the hitter gets into the batters box. I think as a staff we also did a better job of letting go of the negatives and getting back to the next pitch. As a coach you need to model what you want you players to be doing, I think that is the best type of reinforcement.
What factors do you attribute to the consistent level of success at your program?
I think there are a lot of factors that contribute to the levels of success that Cal State Fullerton Baseball has been able to achieve. It all started well before I got here with the previous Titans setting the bar for excellence. There is a lot of pride and tradition in being able to wear Titans across your chest. Every time our guys suit up to go play, we remind them that they represent not only themselves and the team, but all the former Titans that have gone through our program.
I think our guys work as hard day in and day out as anyone in the country. We take a lot of pride in getting better everyday. We also work very hard on the fundamentals. We emphasize the little things everyday. Bunting, base running, execution, those types of things that we rely so heavily on in games, we must do in practice everyday.
We also try to make our practices as game like as possible. When we scrimmage, we often start with runners on base and use the scoreboard to make the game more realistic. We also are able to recruit great talent and that helps to make our intra-squads all that much more competitive because you have to compete everyday to win a position.
Once you have climbed to the peak, how do you challenge a team to maintain that level of excellence?
We challenge our guys the same way whether we are coming off a National Championship season or a season in which we feel short of our goals. The challenge is to get better everyday and to have quality at-bats and throw quality pitches. That is all you can control in baseball and that is what we want our players to strive for.
In baseball there is a lot of failure, if you focus on the results and loose sight of the process you will find yourself carrying the weight of the world and not playing up to your potential.
The challenge is to play the game the right way each pitch. That is a lot harder said then done, but it is something that we work on every single day. The team that wins the most pitches is usually the team that wins the game. We focus on the details and doing the little things, that is the level of excellence that the previous Titans have set and the level that we strive for every season.
Do you ever change the way you are preparing a team during the season if things aren't going as planned?
We spend a lot of time preparing for the unexpected. We will often have umpires make bad calls on purpose in scrimmages so that we can see how our guys will respond, but most importantly, so that we can teach our guys how we want them to respond.
If things are not going as planned, we will make some changes. The key to peak performance and sustaining success is being able to compensate and adjust; it is not about being perfect. Perfection is like a double edged sword, while it motivates you to do better, it is also the constant critic and no matter what you do, it is never good enough.
A lot of the guys that we get have never really failed before, there were all the best players in high school and when they get here they realize that the game has speeded up for them, that they are now playing at a different level. We often have to slow things down a bit if we have a younger team vs. getting more into the intricate details of the game if we have more veteran players who have been a part of the system at Fullerton for a few years.
The will to win. Is it inherent in a player or are there things you can do as a coach to bring that desire out of an individual?
That is a great question, a question that I often think about and discuss with my colleagues. I think that for the majority of guys playing Division I Baseball, motivation is not a problem because they have had to work very hard to get to that level. I think that the will to win is important, but the will to prepare is VITAL.
I think that our guys prepare and practice so hard that they feel they deserve to win every time they step on the field. I think that the previous Titans were able to establish a level of competitiveness and excellence that brings out the best in our current guys.
We are constantly looking for ways to motivate our guys, but we have found that the best way is pure competition. Whether it is in the weight room or an intra-squad scrimmage, our guys want to win and want to compete.
What common traits did your NCAA championship teams possess that helped them become champions?
The common traits that our NCAA Championship teams have had is a discipline and a desire to get better everyday and to work on the fundamentals of the game. Our championship teams, like many of our teams that fall short of that goal get after it everyday and compete with each other to get better.
I think there was a confidence and a belief that they could be champions. Our championship teams also played the game one pitch at a time and focused on the things that they could control. There was not a lot of talk about the draft and things that were out of their control, simply getting better everyday and controlling what we can control.
Is there any benefit to a pep talk speech before a game? If yes, when is it appropriate?
I am not a big believer in big pep talks before games because I think it can get guys overly emotional and too excited. At our level, success is all about consistency and doing what you do on a daily basis in practice in games. That is why our practice time is so important.
We want our guys to play at their pace and to treat every game like a practice, and every practice like a game so that nothing changes. Our goal is to play Titan Baseball and let everything else take care of itself. We are going to throw strikes, play catch and put the ball in play. If we can do that with a focus on the process, in the present moment with a positive mindset, we are giving ourselves the best chance to be successful.
If anything, I think I try to get our guys to relax before a game because they are often excited for the game and can easily get too excited and play out of character if they get caught up in the results and the pressures of playing in a big game vs. doing what they do on a daily basis.
What is your recruiting philosophy?
Our recruiting philosophy is that we are looking for a mix of the player with the best talent, but also a player that plays the game the right way and has character. There are a lot of players out there that have great talent but can become a cancer to the team because they are all about themselves. We have been successful because we have had Titans, not because we have had individuals.
We are as up front and honest as we can be with the young men we recruit. There are a lot of stories about kids who are told one thing and then get to college and the staff and players are totally different than they were in the recruiting process. We try to put it all out there so that the player and his family know exactly what to expect if they decide to become a Titan.
We emphasize the importance of getting an education and taking advantage of what the university has to offer as well as the time commitment and expectations that come with being a Titan Baseball player.
We have our current Titans spend as much time with the recruit as possible so that they can get a feel for each other. Our players have often given us as a staff an indication about a recruit that helps us to make a decision. We take what our current Titans say very seriously because they are the ones that will be spending the next year or more with that player and they know the tradition and expectations that come with wearing Titans across your chest and know the privilege and honor that comes with that distinction and take that very seriously.
What advice would you give to the young coaches reading Championship Performance?
I think the best place to start is to find a person who can be a mentor for you, a person who is in a position or a place that you would like to go. I have been blessed to have worked with and alongside some of the best minds in baseball, Auggie Garrido, Dave Snow, Wally Kincade, Rick Vanderhook, Dave Serrano and Ken Ravizza are just a few.
Attend coaching clinics and become a student of the game. I learn something new about the game or about a way to run my program each and everyday. That is what makes baseball and coaching so much fun is that you will never know everything about the game and the profession. That is what keeps me motivated, the chance that I will learn something new and the pursuit of getting better each and everyday.