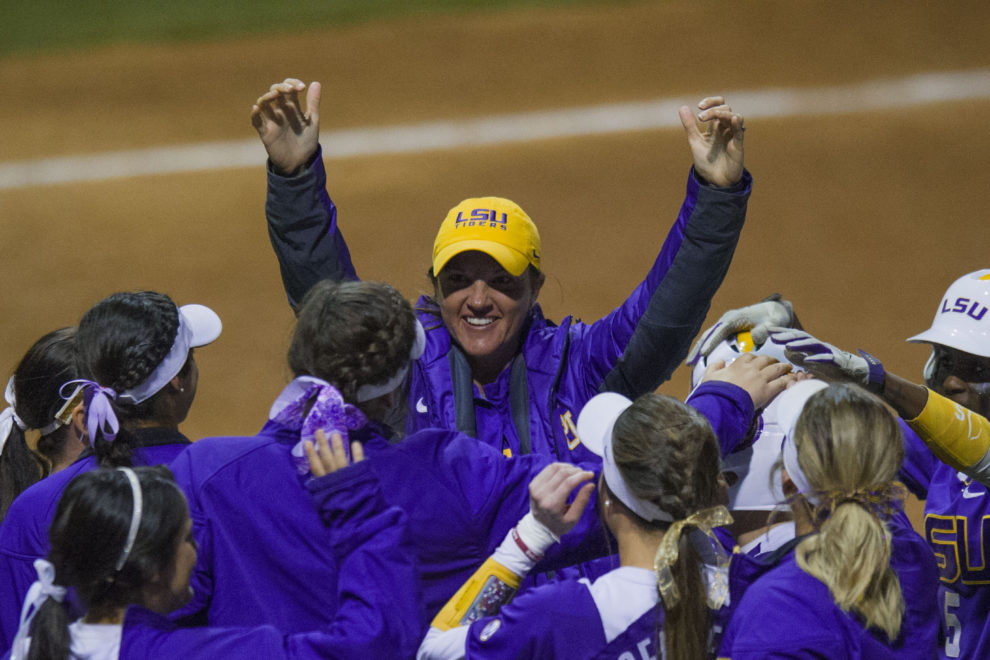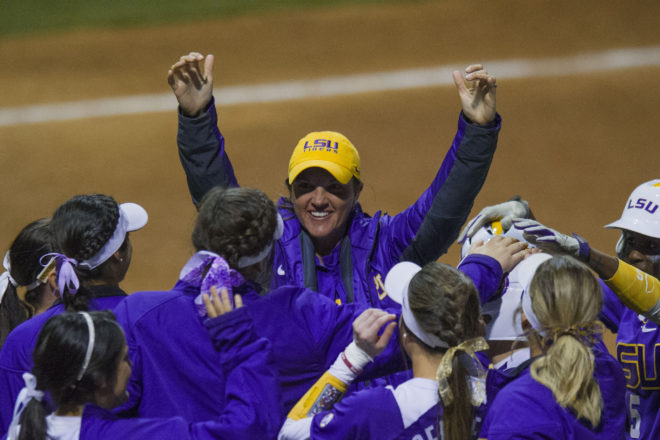 Get this FREE MiniCourse to help your athletes perform their best, overcome any obstacle, and stay focused under pressure.
[gravityform id="3" title="false" description="false" ajax="true"]
With registration for the Mental Performance Mastery Certification fast approaching, people want to know: What are the real benefits of this course? In other words, you want to know how the MPM Cert is going to impact YOU—your coaching, your life as a whole—in a real, tangible way…
… That's a GREAT question. And today, I'm going to answer that for you.
From day one, I've insisted that this certification isn't just about adding letters to the end of your name or going through the motions to slap another certificate on your wall.
I created the Mental Performance Mastery Certification with one goal: To give you the tools, knowledge, and resources you need to help your clients or athletes master the mental game so they can consistently perform their best, overcome any obstacle, and stay focused under pressure.
When you're considering an investment in your coaching practice, what's one of the best ways to decide if it's worth it?
Like many things, in business and life, the answer is:
PROOF.
Living, breathing, irrefutable proof that shows the solution worked for other people just like you.
Below, I have exactly that: REAL coaches who've already seen life-changing results—for themselves and those they coach—with the program.
Grab a cup of something delicious (preferably caffeinated), sit back, and see what's possible with the Mental Performance Mastery Certification.
Let's go!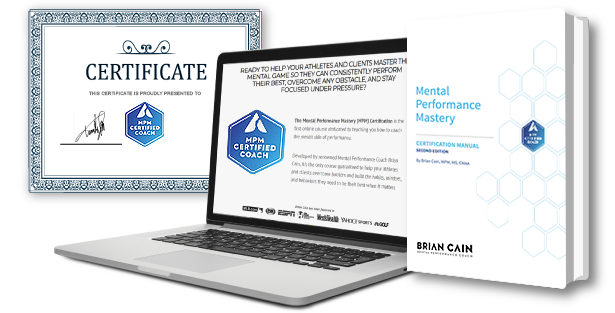 7 coaches share their experiences with the MPM Certification
What if you could discover exactly how to…
Cultivate unshakeable confidence and unwavering mental toughness in everyone you coach
Learn the most powerful mental performance training methods—and exactly when to use them to have the biggest impact
Use the same secrets the most successful athletic programs in the world use to build a champion culture in your team or business
… That's exactly what the MPM Certification is designed to help you do! But like I said above—if I were you, I'd want specific examples. From REAL coaches.
Below, you'll hear from Certified Mental Performance Mastery coaches who are using mental performance to take their coaching, the results of their team/athletes, and their business to the next level.
As you read, keep this in mind: The people you'll hear from below are a lot like you. They once sat where you are now, wondering if this mental performance thing is really as big of a deal as people like me make it out to be.
Regular people who are driven by one powerful force: To become the absolute best coach possible—able to equip the athletes and clients under their guidance with the tools necessary to reach their goals and achieve their TRUE potential.
They leaned in on the opportunity to master the mental game so they could take their coaching to the next level, and now they're reaping the benefits.
Chances are, that's what you're after, too. Read on to see how the MPM Certification can help you do just that.
The Mental Performance Mastery Certification can help you…
Develop a rock-solid, foundational blueprint on which to build core mental performance coaching principles with your clients/athletes:
The MPM Certification is the first certification for coaches who want to master the mental skills that fuel peak performance. And become an expert on building the habits, behaviors, and routines that athletes need to overcome mental barriers and achieve their goals—even when it's hard.
When you apply the principles you learn inside the program, this concept is brought from "textbook to playbook", so to speak.
Like certified Mental Performance Coach Jonah Bayliss from Saratoga Springs, New York here:
"As a former Major League Baseball player, I can assure you, with 100% certainty, that what separates great players and coaches from good ones is their ability to work the mental game. Period. If you value getting optimal results from yourself or your team, there is no excuse not to invest in your mental performance abilities.
I have done private and group pitching lessons, coached 16U and 18U teams, and General Managed a summer collegiate team. What makes me absolutely enamored with mental coaching is that you are instilling concepts and tools that will continue to help those athletes for the rest of their lives, not just the rest of their playing career (which is never as long as we want it to be, regardless of how long you play!)."
Become a better version of yourself—so you can give MORE to your clients/athletes.
Great coaches know that they need to master the skills and embody the traits of a true champion themselves before they can pass these teachings on to anyone else.
That's why MPM Certified coaches, like Chris Lavoie here, know that mastering the mental side of performance creates incredible opportunities for personal development.
By becoming more yourself, you are able to give more to those you coach:
"The MPM will provide you with the content needed for your client base to excel in the mental performance profession. I will admit that I had anxiety about presenting everything from the certification course simply because there is so much information. Find out your clients' needs and shrink your focus to assisting with their growth in that area. Everything you could ever need is in the certification course and you will find yourself in elite company of MPM members that are always willing to assist."
-Chris Lavoie
And here's how Andy here has leveled up himself:
"Working with Brian and the MPM Certification has completely changed my outlook on life. I used to think I was just naturally unorganized and struggled with commitment to change and achieving my goals, but Brian has taught me that all I lacked were the strategies, and all I needed was to learn them and then go execute. Brian is an incredible coach and his MPM certification takes coaching to the next level."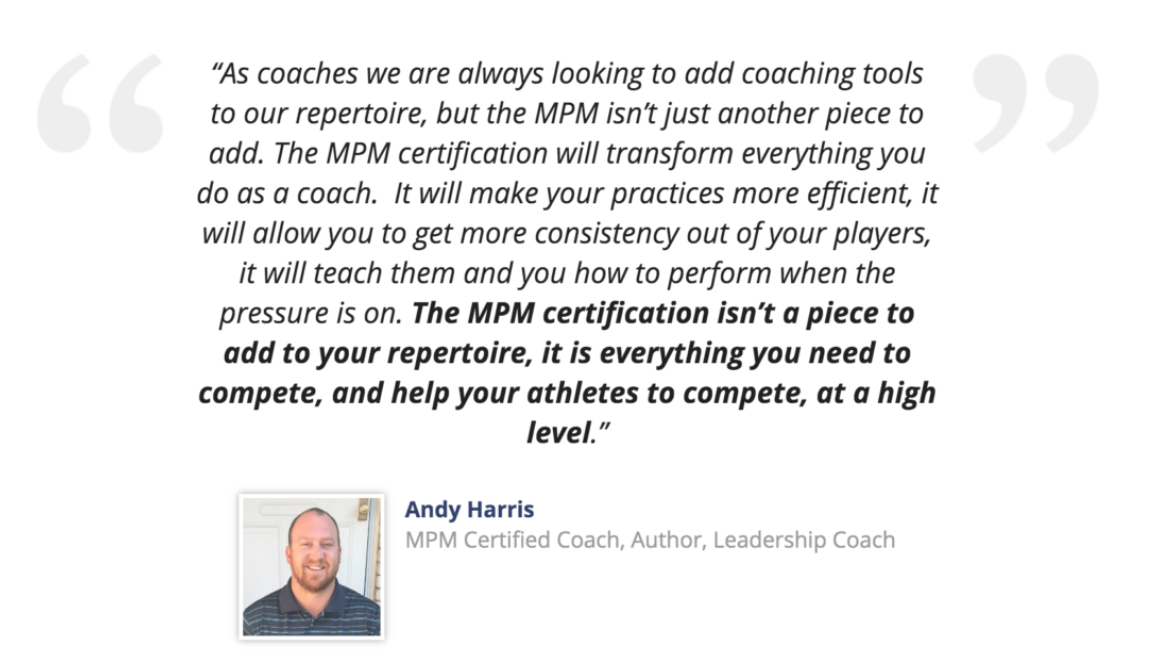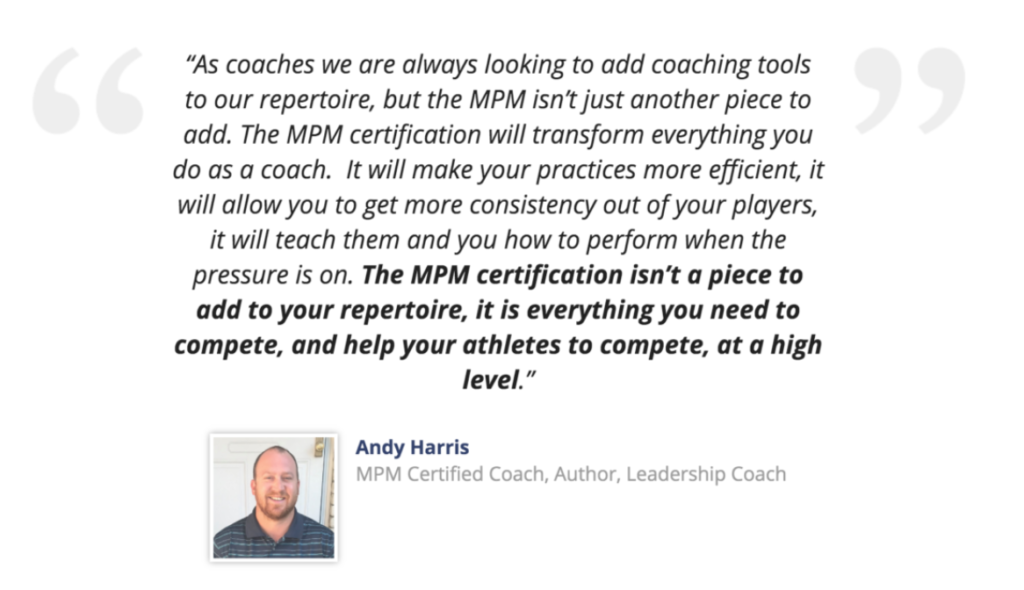 Not just another PIECE. "Everything you need to compete, and help your athletes to compete, at a high level."
WOW.
Now that's what I'm talking about! It can do the same for you and those you coach.
Gain a competitive edge over opponents by learning how to skyrocket your athletes' mental toughness and self-discipline.
When discussing the two most important skills required for competitive greatness, mental toughness and self-discipline certainly come to mind.
Unfortunately, most coaches believe that skills like these are something athletes either "have" or they "don't."
… But what if these were skills you could TEACH, just like any other physical aspect of a sport?
You can. And MPM Certified Coach Kevin Guzzo is a great example of how to do this—and the incredible impact it can have:
"I am now able to give my coaches ideas to help their athletes take their mental preparation to the next level. At the high school level, athletes know very little about mental toughness/mindfulness and mental performance. With the knowledge I gained from being certified I am now able to give both my coaches and athletes strategies to help them with issues such as: controlling their emotions, staying present moment focused, visualization, recognizing their signal lights and getting back to a green light state of mind.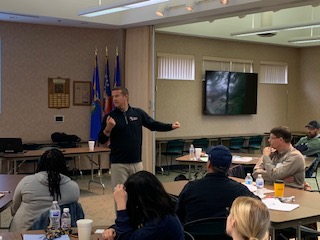 Also, we have really incorporated the idea of "winning the moment" with our athletes. Whether it is the next play in a game, the next drill in practice, or the next class during the school day, we are trying to teach the concept of "winning the moment.
Couple of examples: Our volleyball team wears green beads on their shoes to remind to keep their state of mind moving forward; our basketball coaches continually yell "next play"; our baseball and softball coaches teach taking one deep breath to our batters as they come to the plate; our swimmers do visualization before bigs meets.
These are all concepts learned from Brian Cain! He has been a game-changer for both myself and the coaches and athletes at our high school."
Give you the actionable strategies needed to help clients/athletes be in control of themselves so they can consistently control their performance.
Heard the saying, "Give a man a fish, and you feed him for a day. Teach a man to fish, and you feed him for a lifetime"?
This sentiment is especially applicable to the coaching profession. Our goal is not to just produce teams and athletes capable of doing what they're told to do when we're there to hold their hand.
The goal of all great coaches is to impart skills, knowledge, and capabilities that will allow others to progress to self-automation.
Teaching athletes how to be in control of themselves—their thoughts and emotions—is the most effective way to impact the level at which they're able to perform.
Here's how MPM Certified Coach Donene Taylor has done that with mental performance coaching:
"I work with clients from 12 – 72 years old. Their skill sets range from beginner to World Class. The Mental Performance Mastery Certification program has helped me to develop my coaching abilities so I can meet my clients where they currently are at with their skill sets and help them close their individual gaps from where they are to where they want to be.
Many times my clients do not have the awareness of what they need to work on or the gaps they need to close. This program has helped me raise my awareness of identifying the proper mental performance strategies that will help them the most. Observing my client's body language and listening to their vocabulary choice along with other nuances allow me to identify my clients' gaps and provide strategies that will help them perform their best when it matters most.
I have found that each of my clients, at some point, have challenges with confidence, self-belief, inconsistency with performance and slumps. Providing my clients with proven actionable mental performance strategies greatly improves their ability to quickly gain awareness of how to grow and evolve through each of these challenges, becoming a better version of themselves."
Get "MORE" of what you REALLY want—whether that's side income, a new career in mental performance coaching, or simply peace of mind knowing you've done everything possible to help those you care about most.
While the ultimate goal of those who join the MPM Certification is the same (help others master the mental game), exactly how they go about doing this often varies.
Personal trainers and strength coaches are using this Certification to help their clients get better, longer-lasting results.
Athletic coaches are leveraging mental performance to take the performance of every single athlete they coach to a higher level.
And others are finding a completely new career in mental performance coaching.
Here are just a few examples…
MPM Certified Coach Ethan Miller:
"One of the most important investments you can make is in yourself and your development. The MPM Certification will help you grow as a person and help you serve your athletes better. Each person has different motives for taking the course (ex: MPM consultant, College/HS coach looking to improve their athletes' play and how they operate, parent who wants to help their child).
Whatever the motivation, the impact will be massive for the possibilities in strengthening the mind of the person. If you want more, you must become more and this course will help you and others BECOME MORE!"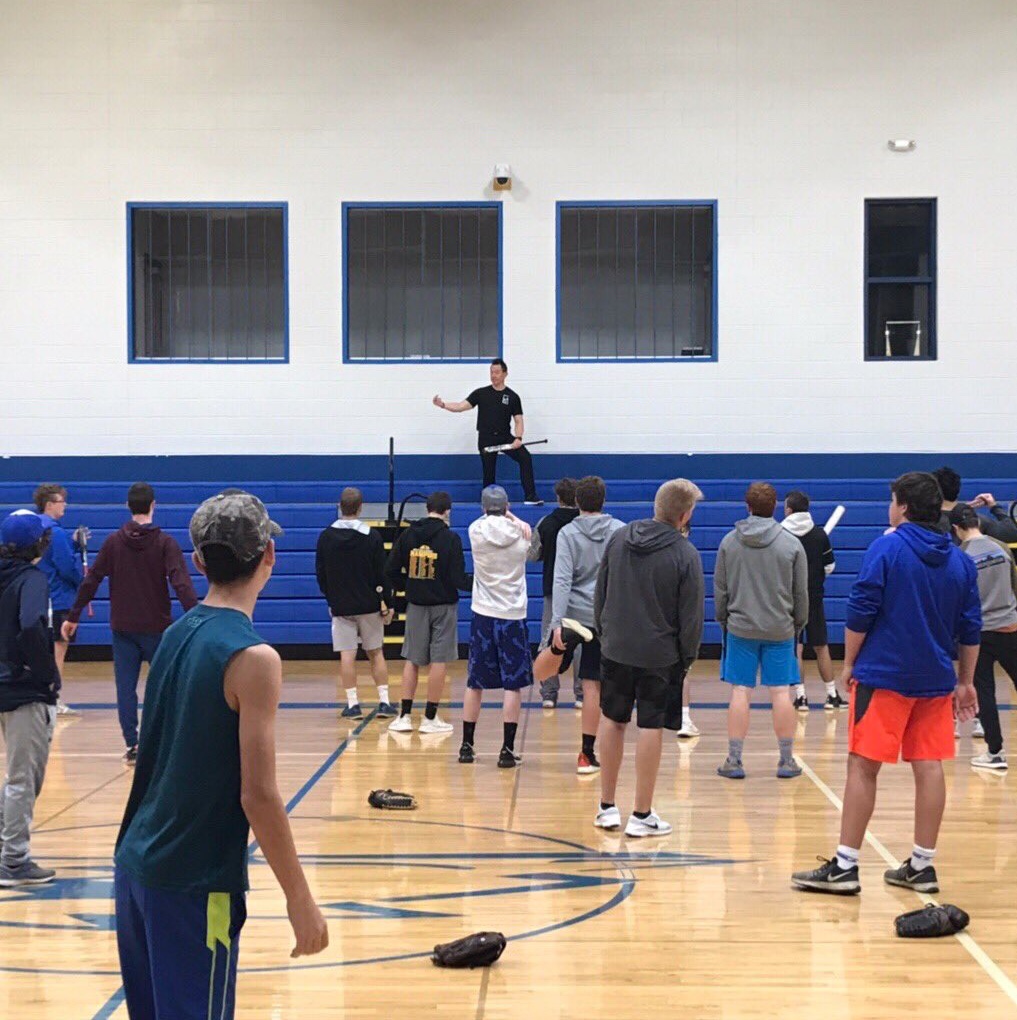 Or Tyler from Denver, Colorado here, who went from a high school strength and conditioning coach to becoming a FULL TIME mental performance coach:
"It (Mental Performance Mastery) changed my life completely. I went from a high school strength and conditioning coach to working with colleges and international teams as well as top sales people in their fields."
-MPM Certified Coach Tyler Pazik
YOUR NEXT MOVE: IF YOU WANT TO TAKE YOUR COACHING TO THE NEXT LEVEL, YOU NEED TO MASTER THE MENTAL SIDE OF PERFORMANCE
Now that you know the 10 mental performance skills every athlete needs for peak performance, you may be wondering…
… How can I integrate these crucial skills into my coaching?
Knowing the what, when, and how of coaching mental performance—and trying to fit all of the pieces together on your own—can be burdensome.
That's why I created the Mental Performance Mastery (MPM) Certification. Inside the MPM Certification, I'll teach everything you need to add this crucial skill set to your coaching toolbox. Providing a step-by-step system for teaching the 10 mental performance skills we covered today.
You will learn how to help your athletes and clients overcome mental barriers that trip them up and build the habits, mindset, and behaviors they need to be at their best when it matters most.
Not only will you develop a deep knowledge of the ten most valuable mental skills needed for peak mental performance, but you'll also have a proven method for consistently and predictably developing these skills in those you coach.
The MPM Certification will open to new students for a limited time only twice a year (May and November). Join the free Insider's List below to save $200 on the certification and be the first to know when it goes live.