---
GET NOTIFIED ABOUT UPCOMING LIVE EVENTS:
---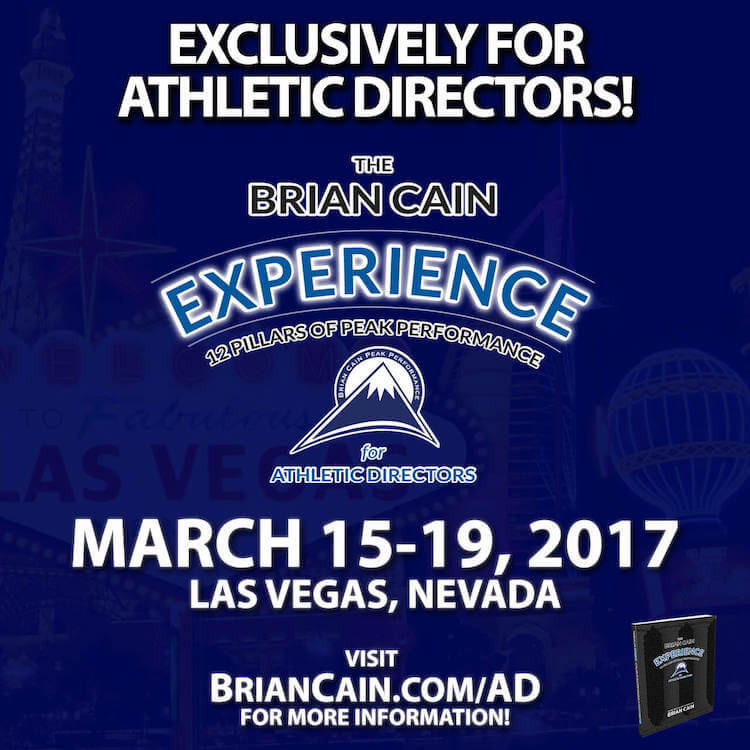 Brian Cain has packaged everything he has learned from working with the top athletic programs around the world over the past 15+ years into an action-packed, transformational live event exclusively for Athletic Directors!
The Brian Cain Experience: 12 Pillars of Peak Performance for Athletic Directors is a 4-day event that is limited to 25 Athletic Directors to ensure a hands-on, engaging experience for each attendee so be sure to secure your spot today.
LEARN MORE ABOUT AD EVENT IN VEGAS!
---

Brian Cain's Total Immersion Weekends are each limited to 5 coaches and include a variety of activities from going in depth on The 12 Pillars of Peak Performance at Cain's home in Texas, to breaking down featured NCAA Postseason Baseball & Softball games on TV, activating the body with yoga and pilates, interacting with top college baseball and softball coaches, and much more behind the scenes with Cain!
LEARN MORE ABOUT THE TOTAL IMMERSION WEEKEND EXPERIENCE!