Last week, I was working with the Hanford High School Athletic Department in Richland, Washington and was introduced to one of the coolest things I have ever seen in any program.
In the school, they had a dedicated "High Five Zone" – when you walked through that area, you were to give anyone you passed a high five.  I WAS INSTANTLY HOOKED!
Here is what I noticed in the High Five Zone:
More smiles than anywhere else in the building
Higher energy than you would probably see anywhere else
People saying hello to each other that normally would not
Louder volume and people using their voices
Greater student and teacher interaction
Lots of laughter at a higher level than normal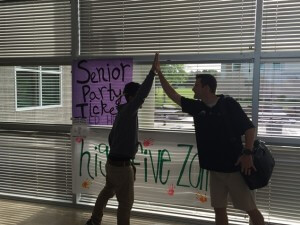 I immediately got into the mix, and decided to jump in and high five as many people as I could.  This is now a part of my everyday life and routine.  Obnoxious… maybe.  Energy building and good for a day of laughter and positivity… 100%.
I decided to take this to the next level.  Attached is your printable Brian Cain Peak Performance High Five Zone sign to be put up in your home, classroom, office, etc.
CLICK HERE TO DOWNLOAD YOUR FREE HIGH FIVE ZONE SIGN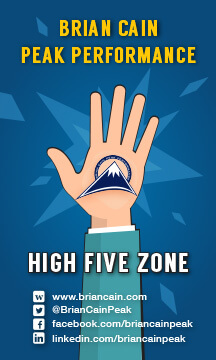 My good friend Jarrett Bayliss used to fly around the dugout of the baseball field and say "high fives are free, high fives are free."  One day I asked him why he did this and he said "Cainer, you ever feel bad after giving a high five?"  I said "no."  He said, "Then give 'em away because they are free.  And help raise the energy up in here."  Even at age 17 he understood this piece of positive psychology in action.
In doing some research behind the positive implications of a high five, I found this amazing article on ESPN about how the NBA's most touchy player was not only the league MVP but was also a World Champion.
CLICK HERE FOR ARTICLE ON TOUCHING & WINNING IN THE NBA
Be sure you pass out high fives this week at a pace unseen before in any human.
And be sure that you…………..   DOMINATE THE DAY!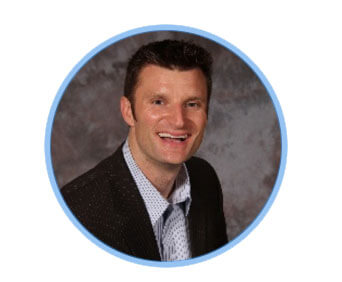 Your Peak Performance Coach,
Brian Cain
@BrianCainPeak