This week, you get to hear from Inner Circle member Ed Padalecki.  Coach Padalecki is a high school baseball and football coach in Flower Mound, Texas.
On this episode, you'll learn about:
The #1 biggest improvement Coach Padalecki has experienced in the last year
The power of a community of like-minded individuals
What it takes to coach 2 sports and lead a family (with a newborn!)
The 2016 Inner Circle Moment of the Year
and much more…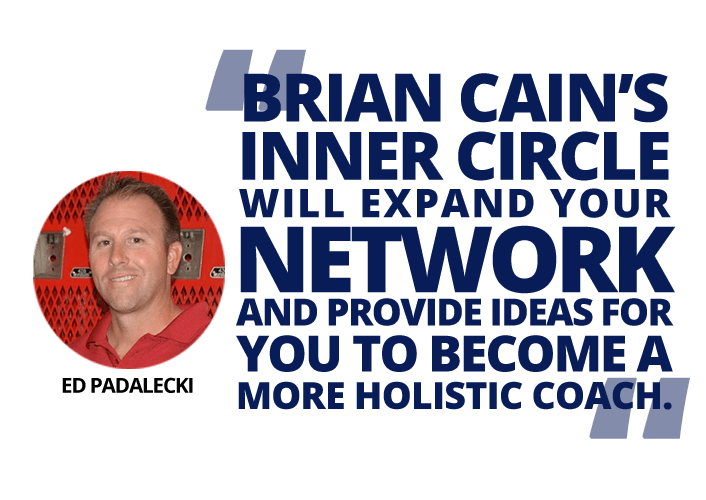 PODCAST TRANSCRIPTION
Morse: Throwing you a change up this week. It's Matt Morse here hosting this episode of the Peak Performance Podcast. I'm joined by Inner Circle member and high school football/baseball coach, Ed Padalecki. Great to have you here today, Ed.
Padalecki: Thank you, Matt. It's a pleasure to be here and an honor.
Morse: Awesome. If you would tell us a little bit about how you got to where you are today as a successful high school baseball/football coach here in the state of Texas.
Padalecki: Well I guess it started shy of my 30th birthday. I was at a point in life where I was living in San Antonio. I had a financial firm, wealth management firm, and was doing the Wall Street thing for most of my 20s. I got to a point to where I was evaluating my life and I liked what I did but I didn't love what I did. I was always passionate about sports and I looked back on my life and who had the biggest impact on me growing up and that was my teachers and coaches so I was able to transition out of my practice and became a coach and a teacher.
I started off in southeast Texas, south of Victoria at a small little rural school. I did everything – football, baseball, track. I taught five different classes. Then from there I move up to the metroplex and I was in the Eagle Mountain Saginaw district and spent a couple years there. Then for family reasons I moved back down to central Texas to Hutto, Texas, home of the Hippos, and coached football/baseball. I taught junior US History. Then I came back up to the metroplex for my wife (or now wife) of going on 2 years. She can check me on that fact. Sometimes I miss that. I'm a guy.
So I moved up here to metroplex, became the head baseball coach and defensive coordinator at a small school just west of Fort Worth – Millsap High School – and spent a year there. It got to the point to where I was driving an hour to work. I needed to reevaluate things. My name was brought up for Terrell High School which is on the opposite side of the metroplex and I figured well if I'm going to drive an hour to work I might want to do that on my own choice. So I moved to Terrell and was the head baseball coach there for this past year. But again an hour commute.
My wife and I had a baby girl over the summer so I needed to reevaluate things, look at what I wanted to do versus what I needed to do, and stepping down as a head baseball coach and becoming an assistant for a few years to come is what I needed to do.
Coach Danny Wallace over at Flower Mound High School graciously gave me the job at Flower Mound so I am there coaching football and coaching baseball. I am coaching football with Coach Brian Basil who is there for his first year as well. Big mental game guys, guys that love to build a championship culture.
Morse: Awesome. Congratulations on the baby. I'm sure that has added a nice dynamic to the family.
Padalecki: It has. It's been a roller coaster – as those of you that have babies know. It's been fun.
Morse: Awesome. So your journey as a coach from Wall Street to coaching – obviously you started in the state of Texas and have stayed in this state. Where along in that journey did you meet up with Brian Cain?
Padalecki: I had been on the acceptance continuum regarding the mental game and the mental aspect. I took sports psychology classes in college. It always seemed to interest me. But it wasn't until I got to Millsap High School and it was really based on a conversation that I had with a friend of mine in passing at a grocery store. He was complaining about how his baseball team had always committed mental errors and I said "mental errors in my mind at some point in time okay let's fix those, they can only be an excuse for so long." So when you tell a kid "hey take mental reps, work on your mental imagery" that is one thing. But you've got to teach the kid how to. That is why I reached out to Brian. I needed to learn the how to.
Morse: So you reached out to Brian to work. Did he come work with your team or was that a one-on-one thing?
Padalecki: It was a mixture. I first sat down with Brian at his house and did a little half day one-on-one then took the information and started implementing it with my team at Millsap. Then I took the team out to a TCU Texas game and Brian sat with us for about six innings and talked us through the mental game with what the TCU players were using, the routines. He pointed out the game within the game and turned the light bulb on for a lot of my players. They were able to see the game in a different light and slow the game down and really work on things that will help them become better baseball players.
Morse: Awesome. What are the biggest challenges you face coaching multiple sports in high school?
Padalecki: The biggest challenge is having your daily routine down as a coach. Time is in demand on a daily basis and you're pulled in multiple different ways not only coaching your two sports but also the teaching aspect. You need to have your 168 set pretty tight in terms of what you need to do on a daily basis and where you need to be. That's the biggest challenge I believe.
Morse: When did you start your 168 plan?
Padalecki: I started my 168 last year. I was pretty rigorous and on point with it. Then on July 18th when a little baby girl comes into your life that changes little things about your routine because sometimes you can't dictate what the baby wants to do. But for the most part you go with the flow. You have to widen your chunks throughout the day or especially overnight. Then just have a general concept of what you want to do.
But I brought that concept into the classroom. I teach high school economics and if time is our most important asset I relay to the students I teach that they need to dominate their 168 throughout the week.
Morse: Sure. I saw several of the 168 plans posted in the Facebook group for the Inner Circle. Obviously you have contributed to that. So far what are the biggest benefits that you've seen since you've joined Brian's Inner Circle?
Padalecki: The Inner Circle, it's the networking aspect. When you have a question you're not limited to the circle of influence that you have locally. You are broadening your network to the United States if not internationally because we have coaches involved that are international coaches based in the UK, Europe, Australia (I believe) that coach baseball. Being in that Inner Circle group you can post a question, maybe it's philosophical or basic game strategy practice organizations, and you get immediate responses. It's great having that network to rely on.
Morse: What do you think of the monthly audios and newsletter in there? Is there a time that you block out in your 168 that you listen to that or that you read that each month?
Padalecki: I took a page from Brian and on my commutes – right now I have a 30 minutes commute, in the past it was over an hour. So I created an automobile university. Instead of sitting there complaining about being stuck in traffic I took advantage of it and I pop in the Inner Circle audios that Brian releases at the first of every month as well as podcasts and audiobooks.
Morse: I've got to bring this one up too. I saw Brian recently nominated you as the Inner Circle Moment of the Year. Can you elaborate on how that came to be?
Padalecki: That took me by surprise that I was nominated for that. It was one of those things that came about Coach Jeff Johnson as Mesquite Poteet. We were about to play them when I was at Terrell and he approached me that he had a senior manager that had been with him for all four years of his high school career. This particular senior is wheelchair bound and he wanted to do something special for it.
It was actually a no brainer for me. I didn't even have to hesitate in doing what he wanted to do. I wanted to intentionally walk one of his players and put the young man on first base and during the young man's lead off we needed to try to pick him off. We intentionally threw it away and created a little circus around it and threw the ball around and allowed the young man to score.
What was interesting is those that were in attendance to that game they released the senior moments of each player before the game and the highlight of this young man's career up until that point was just being able to run the bases at practice so to speak. So in my mind I was like "wow we're about to blow this kid's mind by allowing him to come into the game and allow him to score."
The best part of it is that those of you that did see the video – I guess it went viral. I guess that's what you call it if you have over a million hits, it goes viral, and hen news stations are calling you asking your opinion about it. My players cheered when that young man scored and that was something that I wanted to impart to them because one of our core values was being selfless. I think that exhibited being selfless to them in real life.
Morse: That is awesome. For the listeners that have not seen that yet where can they find it? I know several media stations picked that up. Do you know where they can see that online?
Padalecki: It might still be on YouTube. I think if they just type in "Mesquite Poteet manager scores" it should come up if I'm not mistaken. I think it's on MLB.com in one of the highlights of the year. ESPN might have heard about it. I know it was on CBS News etc. I imagine if they can Google it they can see it.
Morse: Awesome. That is a tremendous moment. For the listeners that are considering joining the Inner Circle what is one piece of advice that you would have for them?
Padalecki: The piece of advice is be engaged. It's not about what you can get from the Inner Circle but what you bring to the table. Even if you don't think you can bring anything to the table you can. Just little tidbits of what you're doing in your program within any sport helps show coaches that they can make little adjustments as well. At the end of the day we don't know what we don't know.
Morse: Awesome. What is one strategy you use in your life – maybe it's from the Inner Circle or maybe from outside – that helps you to continue to sharpen your axe as a coach, as a father, as a husband, to keep getting better?
Padalecki: I think it's that it comes down to if you want more you need to become more. If you want your program to grow you as a coach need to commit to growing holistically in all areas of your life.
Morse: What brings you the most joy or satisfaction in the life style or mission that you are on as a coach?
Padalecki: Seeing the players I coach changing and growing into young men both on and off the field. It's an intrinsic reward when they come back to you years later and they want to have lunch with you or come to your town to have dinner with you. I think that speaks volumes as to the seed that you plant on a daily basis that you don't see come to fruition until years later when you're reminded of "oh yeah that little chucklehead that I coached, he actually was paying attention" and to see the young men that they do become.
Morse: Awesome. Speaking of planting seeds, if you could open the mind of the listeners of this podcast and plant a seed in their mind from your experience and from all of the wins that you've had, the losses that you've had, the teams that you've coached, what would that one piece of advice be for the listeners?
Padalecki: Stay the course. Remain patient in what you do and the goals that you want to achieve. Don't try to speed things up because with due time they will come about. You just need to press towards the goals that you have for yourself in life.
Morse: Awesome. Before we conclude here I want to put you on the hot seat for a couple minutes where I am going to give you a phrase and want you to just come back with the first thing that comes to your mind.
Padalecki: Alright. Let's give it a shot.
Morse: The best book you've read.
Padalecki: The Radical Leap.
Morse: The best advice you've ever received.
Padalecki: If you want more you need to become more.
Morse: Your mentor.
Padalecki: Brian Cain.
Morse: Your favorite hobby.
Padalecki: Baseball. My family if my wife is listening.
Morse: Your favorite app.
Padalecki: My favorite app. I'm not really a big social media guy although it is a necessity (I guess) in life. My YouVersion Bible.
Morse: If you're not a big social media guy the next one is what is your favorite social media network.
Padalecki: Well I guess in terms of posting I don't post a lot but I do the big three – Facebook and Instagram and Twitter.
Morse: And lastly your favorite podcast.
Padalecki: Favorite podcast. There are several. They are all a tie. The one I'm on right now – which I appreciate and feel honored to be on. I love The Mind Side. And then also my wife's. My wife started a podcast where she reaches out to coach's wives to help support them and encourage them. That is called Married To The Game podcast. You can find that (it's a shameless plug) on any of the iTunes, Stitcher, or your favorite Android podcast search engine.
Morse: Awesome. Coach, for the listeners that want to pick your brain a little more, follow you on social media networks, where can they find you?
Padalecki: Twitter is the easiest one. I believe my Twitter handle is @CoachP35. I think I'm under Ed Padalecki. You need to look at how it's spelled in this podcast – Padalecki – on Facebook.
Morse: Awesome. Any last thoughts that you'd like to add for the audience and the listeners that are coaching different sports around the country?
Padalecki: Inner Circle is a great resource. Anything Brian Cain does is a great resource. The live events that happen around the country are great resources as well as whoever Brian networks with. Your network is a great resource. Continue to stay the course. Continue to grow as a coach and in all areas of your life.
Morse: Speaking of live event you were obviously there in attendance. What did you think of the live event? Maybe what is one thing that you have done differently since attending?
Padalecki: The live event was great in terms of you were able to be face to face with other Cainiacs (so to speak) and believers in the mental game. That is few and far between but it is a necessity.
As your athletes grow their talent level increases and then every level they're at everybody else's talent is the same. What separates your athlete from going to the next level would be the mental game. And being able to just talk with the other coaches that are big believers in the mental game. Also the manual that came out. I have used that with my players. Not only my players but in the classroom as well.
Morse: Awesome. Thanks for your time today, Coach. Appreciate you joining us.
Padalecki: You bet, Matt. Thank you.