On a daily basis, you're either taking a step closer to where you want to be or you're taking a step further away.
In 2016, we took some huge strides towards where we want to go…
Recap some of the highlights from 2016 in this video below:
What is the One Word Focus you need to live for 2017?
Now, let's back it up with some system, strategy, process, and routine… so you can blow the roof off in 2017!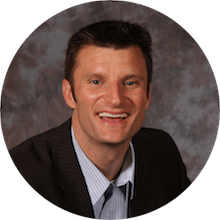 Your Peak Performance Coach,
BRIAN CAIN 
PODCAST TRANSCRIPTION
Cain: So 2016, what a year. The greatest year ever. Why? Because it was the most recent one. And we know that 2017 is going to be the greatest year ever. Why? Because it's the next one. We are always getting better with everything we do.
On a daily basis you are either taking one step closer to where you want to be or one step further away. In 2016 we took some huge strides towards where we want to go. We had our first live event in McKinney, Texas, where we had almost 200 coaches come in and absolutely get after it for two straight days back in July.
Then they get to step #3 and they say "I'll try it." The fastest way for you to get your team to step #3, to say "I'll try it," would you like to know yes or no?
Crowd: Yes.
Cain: Would you like to know the fastest way yes or no?
Crowd: Yes.
Cain: It took me like 6 years to figure this deal out. Would you like to know yes or no?
Crowd: Yes.
Cain: Show an example of someone who is at a higher level of performance than the learner.
And back in March we had our first ever athletic director's event where we had 25 Ads converge in Las Vegas and spent four entire days just breaking down the field of athletic administration from a mental game standpoint, how to go back and change their schools. Some of the stories that these athletic directors have shared have been phenomenal – about how they've created a Championship Culture, how they've created a consistency to their coaches education program and all their coaches are going through the same books in the same month, they're all calling Success Hotline, they are using the Daily Dominator and they are saying that the energy from the High Five Zone that they put up in their school is just taking it through the roof. So they've done some phenomenal things there.
We backed that up with another athletic directors event in October in Chicago and absolutely blew the walls off of that place for a two day event really focusing on time management and routines for athletic directors to get some of that life back.
If you go all the way back to the college baseball and softball post season, had two teams in the College World Series for baseball and two teams in the College World Series for softball. A program that's been near and dear to my heart since 2009, Coastal Carolina, congratulations to them on a National Championship. I'm super excited for Coach Gilmore and those guys. I know all the hard work that they've put in there for a long time so it's not a surprise that they've won the National Championship but it's always a surprise when a mid major school is able to do that in this day and age. So congrats to them in softball.
Florida State and LSU getting right to the final of their bracket, getting one game short from playing each other for a National Championship. Georgia Swimming and Diving, they won the National Championship. Michael Bisping wins a UFC World Championship in the 185 lb division. Just great things going on.
In the Inner Circle that we kicked off back in January you've got caches in the Inner Circle that are writing books, that are running marathons, that are doing Iron Man triathlons, things that they had never even thought about doing before, in the best shape of their life, fired up to talk about how they are growing and sharing that with their staff and with their families. Some of the passion and the stories that you all have shared from how that Inner Circle has helped you is what drives and motivates me on a daily basis to make that even better in 2017. I'm really excited about where we are going.
Another big thing in 2017 is I got to celebrate my honeymoon with the Bear. That was super exciting. We didn't get to do that right after our wedding in 2016, we just had some other commitments, but man that was fantastic.
Another thing I'm super proud of is that we came out with the 12 Pillars of Peak Performance framework. I think what the 12 Pillars of Peak Performance is is it's the 20% of the field of Peak Performance that is going to get you the 80% of the benefit. And finally feeling like I have a really really tight and rock solid process that I can share with you as coaches that you can take and use with your team.
We've got the digital training program on the 12 Pillars of Peak Performance that you can now use and get your athletes to log on so they can watch that and go through the 12 Pillars of Peak Performance manual when they're at home, come into school and you can talk about it in the classroom. So we've taken the guess work out. We've taken out all the leg work. We've done the heavy lifting for you which I am excited about so that you can go into 2017 with a plan, with a process, and get the best results.
Now know this: most people set New Year's resolutions and they become a statistic. One of the best things you can do comes from a good book by a friend of mine (it was the September podcast), John Gordon. So simple yet so powerful. He says set a one word focus.
As you finish watching up this video what is a one word focus that if you would live for 2017 you feel like you would be your best. Set that one word focus for 2017 and then let's back it up with some strategy, let's back it up with some system, let's back it up with some process, let's back it up with some routine and some elite mindset training on a daily basis to help you blow the damn roof off in 2017 and make it the best year of your life. We are here to help. Can't wait to get in your corner and watch you dominate in 2017.